The Tracker Lunchbox Oven is a 12-volt-powered device designed to cook food.
These units are sold in some truck stops and are used by some professional truck drivers in their trucks.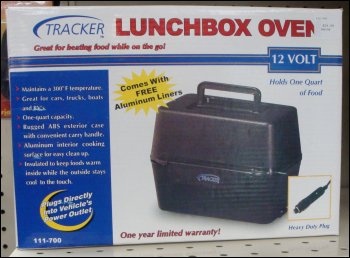 We are requesting reviews from professional truck drivers who have used the product (please see below).
While we have personally used 12-volt cooking devices in the big trucks we have driven, we have never used this specific product before.
According to the information on one panel, the unit:
Maintains a 300°F temperature.
Great for cars, trucks, boats and RVs.
One-quart capacity.
Rugged ABS exterior care with convenient carry handle.
Aluminum interior cooking surface for easy clean up.
Insulated to keep foods warm inside while the outside stays cool to the touch.
Plugs Directly Into Vehicle's Power Outlet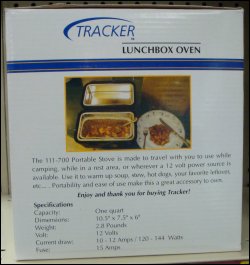 The box's back panel (shown above) says that the unit also
has a secure latch,
has a heavy duty plug with an LED ON indicator,
uses aluminum liners, and
has a one year limited warranty.
Specifications as listed on one side of the box are:
Capacity: One quart
Dimensions: 10.5″ x 7.5″ x 6″
Weight: 2.8 Pounds
Volt: 12 Volts
Current draw: 10-12 Amps / 120 – 144 Watts
Fuse: 15 Amps
The price of the Tracker Lunchbox Oven listed on the box at the truck stop when we took the photos on this page was $29.99. (The price may have changed by now.)
The price that the product is being sold for on Amazon.com (with whom we have an affiliate relationship) — as of February 2012 — was slightly less than that.
The boxed product has a few aluminum liners included. After use, these can either be thrown away or cleaned and reused.
Three comments about the RoadPro Aluminum Pans for the 12V Portable Stove – Pack of 3
One user whose comment we saw online said that the pans do not nearly fill the interior space of a 12V portable stove (they're too small), although it looks like a good fit in the photo;
Another user said that lining the aluminum pan with aluminum foil will increase the pan's life; and
Truck stops sell these replacement liners at slightly higher prices than you can buy them for online and in some grocery stores.
One interesting thing about the Tracker Lunchbox Oven — as shown on the side panel shown here — is that it is manufactured or marketed by Barjan Products Corporation and has a one year limited warranty.
It should be noted that many other 12-volt products for sale in truck stops have a 90 day limited warranty.
If you are a professional truck driver and you have used a Tracker Lunchbox Oven within the last 6 months, we invite you to review it through the form below, answering questions such as these:
What are the top 3 reasons why you bought and used one?
Did it function as advertised?
How would you rate the quality of the product?
Do you think the product was worth the price you paid for it?
How did this product save you money?
Would you buy this product again and why?
---
---
Return from this Tracker Lunchbox Oven review page to read other Product Reviews on our site or our Truck Drivers Money Saving Tips home page.
---