While we have written many a truck stop shower review, if you're a professional truck driver, consider this an open invitation to write one of your own.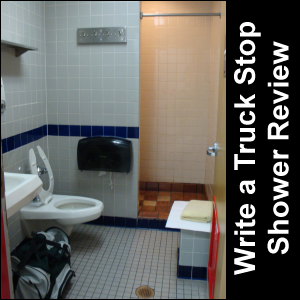 Just fill in the review form below and submit.
In this way, you help other drivers know what you considered to be the value of your shower experience.
Furthermore, the truck stop chains are reading customer reviews so that they can work to make their shower rooms and amenities better.
Because we seek high quality reviews on our site, we give you opportunity to provide a lot of detail in your truckstop shower review.
The more detail, the better.
We greatly appreciate your powers of observation about your specific shower room, service, amenities, etc., and your willingness to report it within 24 hours of your truckstop shower experience, preferably sooner.
Did you have a

really great

shower? Write it down and let us know.
Did you have a

really horrible

one? Write it down and let us know.
Did you see something in the room that

needs management's attention

? Write it down and let us know.
We personally try to be even handed in our reviews and we ask you to do the same.
From our perspective, there is always room for improvement, as evidenced by the fact that we've never given a truck stop shower review grade of A+.
But even as bad as some of the rooms have been, we've never given one an F either.
We look forward to reading your truck stop shower review and publishing it soon!
(As always, we value your privacy and will not publish your email address.)
Thanks in advance,
Mike and Vicki Simons
---
Please note that we will publish only those reviews that are sent within 24 hours of showering at the location.
All reviews must have complete dates (month, day and year).
For convenience, the same Shower Review form that appears on our Truckers Savings App appears here.
---

Money saving tip: Chances are good that when you stop at a truck stop for a shower, you may be interested in spending money on other things, like something to eat, an accessory for your truck, or a personal item.
If you know that the facilities are kept up well, you may have increased confidence that other things in the store are also kept up well and that management values you, their customer.
You may be tempted to spend your money there instead of at another location.
If a truckstop shower is not maintained well, what else in the facility should you pass by?
Have you ever read this in a company's prospectus, "Past performance is no guarantee of future results"?
If you had a less-than-desirable shower experience this time — and you took the time to submit a review on this page — the facility may take your ideas to heart and make things better in the future for all of us.
Remember, if you see a review with which you disagree, you are free to submit one of your own.
---
Return from Truck Stop Shower Review Form for Professional Truck Drivers to our Truck Stop page or our Truck Drivers Money Saving Tips home page.
---