A truck tarp can become unusable for several reasons, including these:
holes,
tears, and
having been cut on purpose by one driver but not being long enough for the next driver.
Are you looking to make a tarp purchase?
If so, then you need to know and understand the differences between the types of tarps (and tarping systems) so that you get the best value for your time and money.
In a nutshell there are two different types of truck tarps:
Those that are manually placed by the driver; and
Those that are drawn over the load, at least in part, by a mechanical device.
On this page, we are going to focus only on those types of tarps that are manually placed on or over loads.
Dangers of Manually Placing a Truck Tarp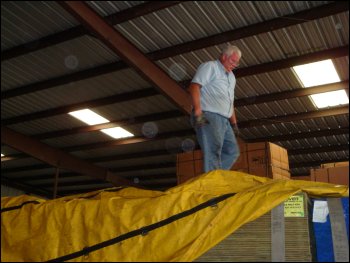 Before we get into tarp specifics, we need to address the safety issues associated with truckers manually placing tarps on loads.
Every time a professional truck driver tarps a load by hand, he or she risks falling off his or her truck (the kind of accident that Mike had in February 2012).
At that point in time, Mike was using old, heavy tarps with holes.
For a long time, he kept asking his trucking company to replace the truck tarp so that his freight would not get wet.
We did some research and found great differences between models.
Attributes or Specifications of Manually Placed Tarps
Know ahead of time which attributes or specifications apply for your situation.
For example, a load of live trees needs to "breathe" but a load of moisture-sensitive products needs to have a waterproof covering in rain or road spray conditions.
Buying the wrong kind of tarp will not only waste your time and money, but could ruin your freight.
Please note that these may not be all of the specifications for every kind of tarp in existence, but it is a fairly comprehensive list of specs that we found.
Type of truck load to be covered:

those which can get wet without being damaged;
those which may be damaged and which the customer may reject; and
those which cannot get wet (or even damp) and which the customer will reject;

General usage:

by freight:

lumber;
steel;
coils or cylinders;
crushed cars or brick;
refuse;
other;

by trailer type:

side kit;
nose;
roll;
box;
flat;
cable chip;
step deck;
dump;
other;

Material, fabric or mesh:

yarn (if applicable):

Denier;
coated before woven;

shade cloth only;
weight (possibly expressed in ounces per square yard);
thickness in mils;
threads per square inch;
high density;
size/dimensions (length, width, depth, lengths of drops);
total weight of entire tarp;

Size and configuration:

dimensions (length, width, depth);
tail flap(s) or other flap(s);

Coating or special color:

waterproof;
UV treatment;
vinyl;
color to block light;
color to reflect light;

Reinforcements on or by:

hems (number of rolls);
seams;
corners;
double stitching;
heat-sealing;

Anchor points, size and spacing of:
Designed to withstand:

abrasive environments;
harsh weather.
New Truck Tarp: What a Change!
When Mike's trucking company finally decided to replace his old hole-riddled multiple truck tarp set-up, they purchased tarps that were just as water-resistant as the old ones had been, but were so much lighter weight that Mike noticed a difference right away.
Not only were they easier to handle but they were easier to fold and store.
---

Money saving tip: Different features of different tarps can greatly add to the cost of a tarp.
Buying too many or too few specifications can waste your money.
Buying "more tarp" than you need wastes money.
Buying "less tarp" than you need means that you'll need to replace it.
Before you buy, it is wise to think like the customers to whom you are delivering freight.
How would they want for the freight to be protected during transit?
Then, go about protecting the freight just that way.
See our tarps with holes page for the added costs associated with freight that is rejected by the customer.
---
Return from Buying a Truck Tarp? Save Money: Know Differences Between Truck Tarps to our Tools and Equipment page or our Truck Drivers Money Saving Tips home page.
---