By: Marsha Bird,
Sulivan, MO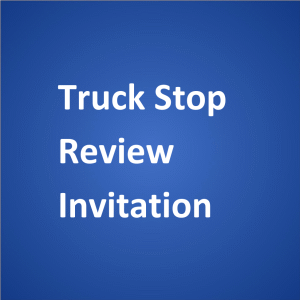 I noticed that you list AmBest truck stops as a chain and wondered why my group of independent locations are not listed. Please visit our website at www.natsn.com for more information but we have been around since November of 1988 and started our driver loyalty program, NATSN VIP in July, 1995. With our program, the driver receives points and everytime his/her card is swiped, they have a chance to win CA$H. We give away $17,500 each and every month in increments of $20, $50, $100 (Instant Cash) and we have 22 Grand Prize Winners each month that win either $250 or $500. Plus at each 2500-point level, we issue a $10 gift certificate that the driver can save or use instantly. These gift certificates have a two-year expiration.
We hope that you will add our truck stop group to your website and review them as well as we are the only group that has coverage in Canada (The Husky Truck Stops). Some of our larger truckstops include Seven Feathers in Canyonville, OR; Lee-Hi T/Plz in Lexington, VA; Stamart #5 in Fargo, ND. WE have the Choctaw Nation of truck stops in Oklahoma, the Oneida Tribe in Wisconsin; the Campo tribe in San Diego, CA and of course the Seven Feathers is the Umpaqua Tribe.
Your consideration is appreciated as I really like your website and hope to see some NATSN information pop up someday soon.
—–
Response from Vicki:
Hello, Marsha,
Thank you for bringing your North American Truck Stop Network to our attention.
We are delighted to add it as an option on our truck stop page and also provide a link to the website on our diesel fuel prices page (the page on our website where links to truck stop chains are listed).
Whenever you have saving opportunities at any of the truck stops in your network (individually or collectively), please feel free to submit them to us on our Truckers Savings News page.
We are most eager to provide real saving opportunities to today's professional truck drivers. So, please keep in touch.
Sincerely,
Vicki Simons
https://truck-drivers-money-saving-tips.com/

—– Comment —–
natsn screws drivers by Anonymous
Date: Jan 14, 2014
i think natsn is the biggest rip off in the trucking industry. they do not care one bit about the drivers and screw them over every chance they get.
they changed over there card system and didnt not inform anyone that they were going to do it then when i tryed to redeam my rewards i was told i had to change the card that i have had for 10 years to the new card to redeam what i have earned.
under the old reward system we got 3.00 for every 100 gallons i bought.. when the natzis got involved they screwed the drivers by only giveing 10.00 for every 1300 gallons we bough saving the truck stop some 30.00 for every award…. screw the drivers…. natsn is a joke and the lady who answers the phone says if u dont like it find a diffrent truck stop… theres careing for the guys and gals who keep this country rolling
—–
Response from Vicki:
To whomever wrote the preceding, please put your complaint in a snail mail letter to the NATSN (North American Truck Stop Network).
According to their website, http://www.natsn.com/, the correct contact person and business address is as follows:
Amanda Zelch, VIP Plus Administrator & Membership Services
North American Truck Stop Network
P.O. Box 337
Sullivan, MO 63080
Please be sure to sign it and provide your own contact information so that the network can resolve your situation.
Whether you have resolution or not, please return to our site and provide an update in 6 months.
In the meantime, we wish you safe travels and lots of money saving opportunities on the road.
Best regards,
Vicki Simons
https://truck-drivers-money-saving-tips.com/

—– Comment —–
Good post by Erick White
Date: May 27, 2015
Hello! Your site is great!
How much time did you spend to write so awesome articles?
I want to suggest you to advertise my site [irrelevant link removed] on your blog, is it possible?
I really love your site and your audience, I will pay any money to publish a guest post, for example, on your site.
Please, answer me! Thank you!
Response from Vicki:
Thank you, Erick, for your kind words. We have a rule about publishing posts and comments on our site — which was started in January 2009 — that they must be relevant to the theme of our site. Your link was not relevant and has been removed. In the future, please keep your posts on topic. Thanks.

—– Comment —–
Gallons or points by Anonymous
Date: Mar 24, 2021
Some quick information about your card. Can another driver give me his points. Or should i say his gallons to me. I had 5 receipts to add to my card from another driver and the store refused to add them.
Response from Vicki:
If anyone from NATSN (North American Truck Stop Network) is monitoring this page, would you please answer this trucker's question?
Is it possible for drivers to give their gallons or points to other drivers?
Thanks.