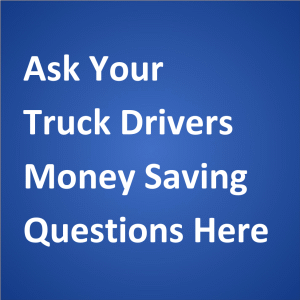 By: Donna n Steffini ,
otr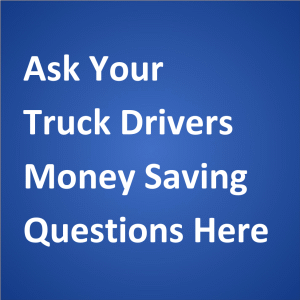 Hello! My name is Donna and my partner is Steffini! We have been homeless truck driversvwith Usxpress for 7 months now and have a book of questions for you! We live in this darn thing of course….LITTERLY ….and are going ….i swear from advance to advance! Not even payday to the next! Please help!!! There is SOMETHING were doing wrong….way way way wrong!
Desperately needing professional OTR homeless advice!
—–
Response from Vicki:
Hi, Donna and Steffini,
Thanks for asking a question on our website.
If you are living from one cash advance to the next, then yes, something is wrong. Here is what I advise:
1. For the next 30 days, write down absolutely everything you spend money on — down to the penny — along with the date and time you made each purchase and what you were feeling at the time you bought it (including how you justified the expense). We provide a free download called "My Spending Diary" to help you get started.
2. Then, categorize each expense into a budget category to see where you're spending what.
3. You may find that when you start to put a budget in place that spending in some areas is wildly out of balance. Only when you know how much you're spending on what can you get a handle on what's happening.
For professional truck drivers who have no in-truck meal preparation items with which to cook or prepare food, a lot of money may be going to restaurant food (particularly at truck stops).
Years ago, when Mike and I were at one of his trucking company's terminals, we were talking with another driver who said that he'd take $150 on the road with him at the beginning of the week and by the end he had nothing left. We asked him if he was eating out a lot and he said yes.
Think about that for a moment. If he spent $150 weekly on restaurant food, that is
  $150/week 
x   52 weeks/year
-----------------
$7,800 per year!

If he had invested part of that money in an inverter, hot pot and ice chest — and then good food to cook to eat meals in his truck — how much money could he have saved every week?
For your convenience, here are two product listings from Amazon.com, with whom we have an affiliate relationship.
Could you be spending a lot of money on entertainment? Or things purchased in a truck stop travel store? Only you will know when you start to keep tabs and make a written record.
Also, just because you are homeless does not mean that you may be free of all bills associated with having a home. Or you could be swapping one type of home-type bill for another. There's a difference between becoming a truck driver and transitioning to the trucker lifestyle.
Allow me to encourage you by sharing a personal story with you. Mike and I graduated from truck driver training school with about $14,000 in federal student loan debt but diligently worked to pay all of that off in about 1.5 years.
We have also had other debt over the years. The best way to tackle it is head-on. Being debt-free is a wonderful feeling!
Ask yourself if you "really" need to spend money on X when Y would be better. Think of what will provide a return of money on your investment.
Another angle of this is that you may not be getting all you need to pay your bills. Is your trucking company exploiting you? If you feel that you aren't getting all the miles/loads/hours you need or want, talk with your driver manager to see if you can get better pay.
Are you leasing a truck? If so, you may want to re-evaluate that.
Depending on your needs, you may want to explore the possibility of earning a second income from within your truck to either supplement or eventually replace your trucker income.
Please write back in about 6 months to let us know what advice you took and how it worked for you.
From Mike and me, we wish you safe travels and lots of money saving opportunities on the road.
Best regards,
Vicki Simons