The transition to becoming a trucker living full-time in a commercial motor vehicle presents both challenges and rewards.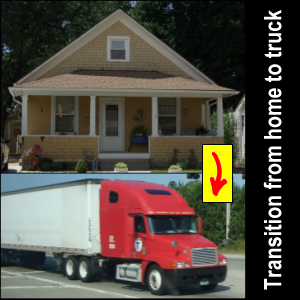 When we say "living full-time" in this kind of vehicle, we:
mean being "homeless", as in no longer having a residence; and
do not mean just having a full-time job as a professional driver.
The former is a lifestyle; the latter is an occupation.
There are plenty of drivers with full-time truck driving jobs who go home to a house regularly (like every night or every week).
For those who have a home support team at home, that's great.
But this page is about how we have made a total break from residential living to in-truck living — and how we did it frugally.

Our Experience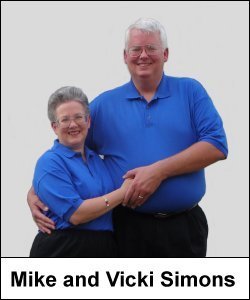 In late 2009, we once again became "homeless" and we lived full-time in the tractor that Mike drove for his at-that-time regional trucking company.
We had been residence-free before, so we knew what it was going to be like.
The difference this time was that Vicki was not going to team-drive with Mike.
She was his passenger, working on researching information and writing content for this website.
Vicki also took hundreds of photos of trucks, traffic, truck stops, etc. from the passenger seat of Mike's truck.
Plus, she considered herself to be Mike's in-truck home support team member.
Introduction
There are many factors to take into consideration before making the transition to being a full-time living-on-the-road trucker.
For purposes of this article, we are specifically addressing drivers who hire on with a 48-state irregular route common carrier within the USA, who are (or could be) away from their home areas for long periods of time.
One of the things that can draw someone to the trucking industry is seeing the country.
During our first job in the industry we traveled to or through all 48 states in the continental USA.
We saw the beauty of this country and marveled at the diversity that the Lord has created: from urban to rural areas, from desert to mountain topography, we have seen a variety of flora and fauna on our route.
Living in the tractor portion of an 18-wheeler that you use for work, however, is not the same thing as going on vacation, staying in hotels every night, or living a glamorous lifestyle.
It is work, so please ditch all ideas of B.J. and the Bear.
Space Factor
It should be obvious that the space that one has in a commercial vehicle is much smaller than the space that one has in a house, condo, apartment, mobile home, etc.
If you live full-time in your truck but have possessions that you do not want to sell, donate or give away, you may want to put them in self storage.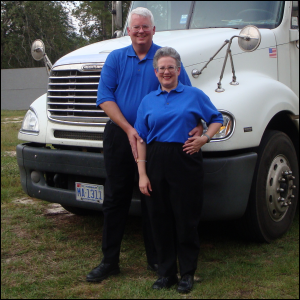 There are many different kinds of tractors on the road today.
The configurations are vast.
Some tractors have a lot less storage space in them than others.
There are flat top, mid-roof and raised roof (or condo style) tractors.
The less vertical height, the less storage space the tractor has.
For a while, Mike drove a Freightliner Columbia that came equipped with floor-to-ceiling cabinets on both sides behind the driver and passenger seats — as well as space under the bottom bunk.
Everything you take with you — clothes, food, appliances, technology, hygiene items, work-related needs, etc. — all have to fit in or on the truck somehow.
(That's why we wrote our truck organization page.)
Drivers have to prioritize what to pack because there is only so much room under the bunk, in and under the cabinets or on the floor.
We have provided three different packing lists to give you an idea of what we pack for life on the road.
Of course, your priorities may be different.
When we were in the Columbia, we bought a sweater organizer (like the one shown and linked here) in which to more efficiently store our clothes in one of the cabinets.
Here is a listing for one from Amazon.com, with which we have an affiliate relationship.
Of course, if you are a driver with a super-huge custom sleeper, you may choose to make room for just about anything in your vehicle.
We hung up the sweat jackets and winter coats on hangers that we hung off the wall mounting hardware for the top bunk.
One of the keys to storing things is anchoring them in such a way that they will not shift during transit.
We used a variety of devices to achieve this, including bungee cords (like rubber tie downs) in our "kitchen cabinet."
In a different truck with actual cabinets and not net closures, securing your personal possessions can be a little different.
Togetherness
Among the most trying of all things for couples (or teams) to adjust to is being with each other all the time in tight quarters.
We said when we first started to team that being together full-time would do one of two things: either bring us closer together or drive us apart.
Teaming brought us closer together, which is one of the reasons why we didn't mind being homeless together again.

It is not advisable to have more than two people living in a truck at any one time.
There are drivers who may have their own child with them, but usually never more than one. While we have never heard of a professional driver who home schooled his or her child on the road, it is possible that it can be done.
We don't recommend that truckers with more than one child go homeless or stay away from their home areas for long periods of time.
Food Factor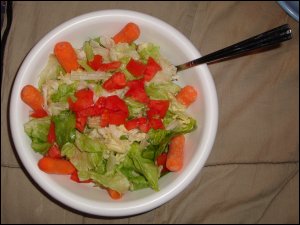 One of the biggest transitions to becoming a trucker is learning to eat healthfully on the road.
There was a time not long after we became truckers that we were eating a significant number of meals in truckstop restaurants.
At that time, the emphasis on heart-healthy and low-fat options on the menus was different from what it is now.
Besides the predictable menu options at many truckstop restaurants, one must consider the price of each meal.
Be honest: you don't earn a paycheck in order to keep the truckstop restaurants in business.
Eating out should be a pleasure that you look forward to, not an event that you have to engage in because you didn't plan well.
One of the biggest parts of a trucker's budget on the road can be food.
But if you plan in advance, you can save a lot of money by preparing meals in your truck.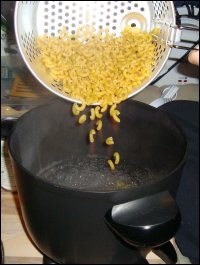 There are many appliances on the market today (like the "hot pot" shown here).
Some work better than others.
We have used and reviewed quite a number of them on this site.
Being homeless pretty much precludes buying in bulk (especially when there is a sale), canning and gardening, all of which are activities that someone who lives in a house with a garden can do.
Truckers may need to make it a point to visit grocery stores or super centers to restock foodstuffs.
Either that, or they have to make do with whatever the truck stops sell (which is usually sold at a premium).
Don't be surprised if items there — such as bottled water and fruit — are sold at a mark-up that is 50% or higher than what you would find in a grocery store.
After all, they are in business to make money; but that doesn't mean that you have to buy your necessities there.
Truckstops aren't grocery stores and they don't stock the variety of foodstuffs that grocery stores do, such as chunks of meats and a wide variety of produce.
Your money-saving options include preparing food on the road instead of buying pre-packaged meals.
Some pre-packaged foods are still a good bargain when compared to the cost of a restaurant meal.
Your options for creating tasty and low-cost meals are limited only by your imagination, your power source and the appliances you take with you.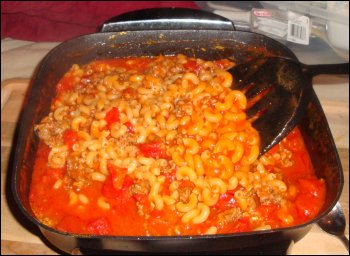 Perhaps you will be inspired by what we've listed on our Food and Recipes page.
Grocery shopping may be hindered by where you can park your truck.
In some cases, you may be able to drop your trailer (such as at a shipper where you know it is going to take awhile to get loaded) and bobtail to a grocery store to go shopping.
Please be aware of — and abide by — all rules and regulations regarding dropping trailers wherever you park.
Also, bear in mind your company's restrictions regarding using your tractor for personal shopping trips.
See our free truck parking page for more info.
Also, if you are into gourmet cooking or cook with organic foods, you should realize that your options may be limited on the road.
Plan in advance and you may be able to continue with some "fancier" cooking on the road.
Clothing Factor
It is a good idea to pack a variety of clothing items so that you will never be caught unprepared, no matter what kind of weather you encounter.
All it takes is one trip from southern Florida to the New England states in the winter to open your eyes to that truth.
Some drivers like to pack enough clothes (and especially enough under-garments) to last for at least a couple of weeks before needing to do laundry.
Obviously, you won't need many (or any) dress clothes on the road.
You will want to wear comfortable and sturdy clothing that can handle the rigors of the road.
If you work for a trucking company with a dress code, you will need to follow that.
Laundry
Without a home, your options for doing laundry on the road are limited.
The thing that must be realized is that while laundry can be washed and dried at home for the cost of the use of the equipment and cleaning supplies, one is at the mercy of availability of laundromats, laundry-cleaning equipment and how much they cost to operate on the road.
When you make your grocery shopping list, don't forget to purchase laundry supplies (detergent, bleach, fabric softener, dry sheets or other additives).
If you don't have these supplies on hand, truck stops will be more than happy to sell them to you — for an inflated price.
Hygiene and Cleaning Factors
We describe how many truck drivers take showers on the road.
Some drivers make it a practice to shower every other day on the road, about as often as they get fuel in their trucks.
Someone who has to have a shower every day should consider carefully living in a truck full-time and what will happen if he or she isn't near a truckstop to utilize such a service every day.
It doesn't take but a few times of showering on the road to realize that showering facilities vary (which you will see by reading the shower reviews on our truck stop page).
However, truck stop showers mainly offer the same kinds of basics.
You will need to take with you — in a "shower bag" or "travel bag" — everything that you need to use, not necessarily everything that you have been used to using at home.
If you are particularly sensitive about using public restrooms or you just like the convenience of having bathroom facilities near at hand, you may wish to invest in a portable toilet.
When we had a residence, Mike regularly used water via garden hose and appropriate brushes to clean his company-assigned tractor, portable toilet and ice chest.
When we were homeless, we had no home water service, no outside faucet and no hoses, so Mike had to find other ways to keep these items clean.
Mail Factor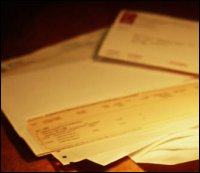 Without a home, you may feel that you don't have to return to your home area (that is, the place where you receive mail) on a regular basis.
If you are on the road for a significant length of time, there may be bills, tax notices, account reminders and other correspondence accumulating in your absence.
You do not want to risk missing any deadlines while you are on the road.
(Missing the date when certain taxes are due can lead to big problems.)
So having a planner or schedule of when certain things come due is a good idea.
List the item, the date it is due, the amount to be paid, the addressee and the address where payment needs to be sent.
It is also a good idea to keep a small amount of business-sized envelopes and first-class stamps with you at all times.
Finances and Banking Factors
Many people, professional drivers included, have come to rely on Internet banking (or online banking) in order to keep their accounts current.
We have certainly found it convenient to take care of our personal bank accounts and credit card accounts online.
Please be aware, however, of the positive and negative aspects of this and take precautions where necessary. Identity theft is rampant.
Schedule Flexibility Factor
Over-the-road professional drivers who work for irregular route carriers do not have set hours of operation.
We have had many a load to a grocery warehouse with an early morning (such as 4 a.m.) delivery appointment.
If you are the kind of person who works better on a fixed schedule or cannot imagine traveling to strange new places at all hours of the day and night, trucking might not be for you.
Those who need a fixed schedule may need to find a job where they work only a certain shift or predictable schedule).
Flexibility is key.
Sleep Factor
It may take some time to get used to sleeping in a truck.
You can use either bed sheets and blankets or a sleeping bag as your bedding material.
Depending on how your truck is equipped, you may sleep with your truck turned off (perhaps with one or more windows or vents open) or stay comfortable by idling your truck or running an auxiliary power unit (APU).
Depending on your preference, you may choose a particular kind of alarm clock.
Vicki has used the alarm clock feature on her cell phone numerous times.
Mike uses a battery-powered atomic alarm clock, but encourages drivers who use devices like this to keep spare batteries on hand.
You may choose to use a wind-up clock, but remember to wind it daily.
Others may use an AC-powered clock plugged into their inverters.
Noise Factor
To stay comfortable during sleeping hours, many drivers either idle their trucks or run an APU.
In the idling and APU-running situations, drivers need to accustom themselves to the sound and vibration of the motor.
Whereas idling or APU-running provides a continuous sound, professional drivers who pull refrigerated trailers need to accustom themselves to the refrigerator cycling on and off throughout the trip, even at night.
To assist in being undisturbed by noise during sleep, Vicki recommends getting Hearos Ear Plugs (Xtreme Protection Series), which she uses herself.
If you are particularly sensitive to movement, vibrations, temperature changes and other weather variations (including precipitation), allergens, a wide variety of smells, or differences in drinking water you would be wise to consider carefully becoming homeless and going on the road full-time.
Community Factor
When drivers and their passengers decide to be on the road full-time, they are automatically cutting down on their opportunities to be involved in their communities compared to people who go home to residences every night.
For example, their attendance at these types of meetings may be very limited:
Religious (church, temple, synagogue, mosque, etc.);
Civic (Rotary, Sertoma, Shriners, etc.);
Philanthropic (Habitat for Humanity, Helping Hands, Goodwill, Salvation Army, etc.);
School (parent-teacher conferences, sports games, etc.);
Politics (federal, state, county, municipal and special purpose district);
Volunteering; and
Other memberships,
just to name the more obvious ones.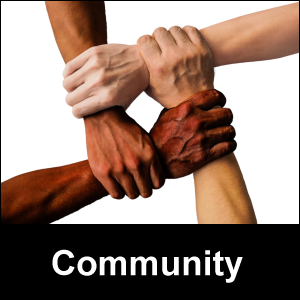 It may be more difficult for you to attend weddings and funerals if you live full-time on the road.
When we drove as a team for U.S. Xpress, we were in Washington State and needed to get home to South Carolina to attend a wedding in Tennessee.
We were motivated.
By carefully planning our driving and stops, we actually ended up, between the two of us, logging 1299 miles in one 24-hour period.
We made it to the wedding with room to spare, but we never again drove that hard.
You may (by virtue of your residence-less status) also be ineligible to vote, especially if you live in a state where residence verification is required before a ballot (or ballot access) is granted.
Home Time Factor
When a homeless truck driver decides to "go home" (perhaps to check mail), he or she has to decide where to stay overnight.
Will his/her choice be to stay at a hotel/motel or with family or friends?
Arrangements must be made in advance.
Cell phones with an Internet connection and mobile broadband provide drivers with the opportunity to scout for hotels for truckers.
One consideration that drivers need to make is finding facilities with truck parking.
Staying with family or friends can work for those who do not "wear out their welcomes," so to speak.
Medical, Dental and Vision Factor
One of the disadvantages of living full-time in one's truck is not having ready access to medical and dental services.
If you are a company driver, you may wish to schedule known services, say, on a Monday morning of a weekend when you know you are going to be in your home area and arrange to get a load after you are done.
You may also choose to schedule your appointments during vacation.
Regarding your vision care: if you wear glasses or contact lenses, you may wish to have at least one spare set with you on the road, in case of loss or breakage.
You may wish to carry with you a small supply of vitamins, minerals and medications for your most likely ailments and injuries.
Personally, we would take a supply of very compact essential oils with us.
You will want, of course, to take an appropriate amount of all prescription medicines with you on the road.
Advance planning is key.
It can be challenging to stay physically fit on the road.
It can be almost impossible to make sufficient use of a trucker gym membership from the road. However, there are fitness plans available that can be used in and around one's 18-wheel tractor-trailer.
You may also choose to take advantage of the materials in the Health and Wellness section of our website.
Miscellaneous
Among the things that a professional driver may not be able to do on the road as much as he or she would at a residence are recycling and sewing one's own clothes (although we know of one former OTR driver who ardently crocheted in her non-driving hours).
Other hobbies (such as amassing collections of coins or stamps, building a working toy train operation, or using carpentry skills to make homemade wood products) or sports (golfing, horseback riding, playing tennis, swimming, etc.) may have to be postponed or abandoned, whether temporarily or forever.
Although someone who lives in his/her truck year-round may not be able to decorate his/her residence for Christmas, that doesn't mean one can't have at least one Christmas decoration on his/her truck.
Additional Resource About a Trucker Transition
---

Money saving tip: When you are preparing to be a full-time, live-in-your-truck trucker, you need to prepare in advance for life on the road.
You will need to invest in the highest quality products you can get for the lowest price you can get them, even if you have to buy them used.
Sometimes you can find items you need on eBay for a fraction of what you would spend in a retail store.
Thrift stores, consignment shops and other second-hand resale businesses may be viable places to look for goods.
But be careful about buying anything from someone hocking merchandise that "looks good" but isn't what it appears to be.
Exercise discretion and discernment.
Watch for sales, such as back-to-school sales (even state sales tax holidays) on office supplies, house wares, recreational aids, and more.
There are seasonal sales on some goods.
Owner operators own and operate their own trucks.
To save big bucks, you can at least start out by living in a truck that is owned by a trucking company.
If you are investing in one or more appliances in which to cook your meals, we suggest that a good quality hot pot may be one of your best choices.
Of course you will need a way to power it.
You may want to space out or stagger your purchases so as not to have to pay for everything all at once.
Pay off any credit card balances right away to avoid paying interest charges.
See if you can use a credit card that pays out rewards for usage and then use the rewards toward future purchases.
If your friends are planning to throw a party for you in advance of your transition to being a full-time, living-in-your-truck driver — and they are planning to give you gifts — you may suggest that instead of things that you cannot store or use in your truck, that they give you gift cards for things that you will use.
An alternative is to provide a list of exact items you like and will use (like a gift registry used for weddings and baby showers).
Don't be afraid to ask for discounts where appropriate.
Treat any truck that is not your own better than if it were yours so that when the time comes that your company trades in the truck, there is no need to have a cleaning service clean it out (and potentially dock your paycheck for the amount).
---
---
Return from Trucker Transition Tips on Full-Time Move From Home to Truck to our Trucker Services page or our Truck Drivers Money Saving Tips home page.
---