Our first usage of a Verizon mobile hotspot to connect to the Internet took place during a two-week business trip through 13 states in June 2013.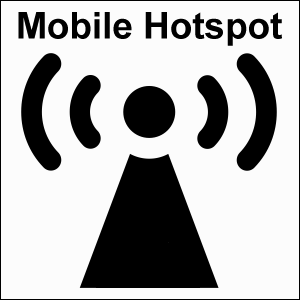 We have since used a mobile hotspot many times, including to obtain Internet service for a laptop computer.
On this page, we will detail
what led up to this choice;
what is required to set up this service;
the ease of using it; and
our conclusion and overall satisfaction.
What Led Up to This Choice
Previously, we had used Verizon Wireless Mobile Broadband service as our means of having Internet on the road.
It required the use of a USB flash drive type modem. This 3G device worked well for us for years even after it was damaged and "straightened."
In February 2012, we upgraded our cell phones to Smartphones.
The accompanying data packages opened up the world of mobile apps for us.
We didn't realize at the time that our Smartphones were programmed to allow mobile hot spot service.
It didn't much matter after we moved into our dream come true home, because shortly afterwards, we signed up for a new cable Internet service.
At that point, we no longer needed wireless service for an Internet connection — at least for a while.
Since this page was first written, we upgraded our Smartphones again to Motorola Droid Turbo 2 devices.
One version of the Droid Turbo 2 is shown here from Amazon.com, with which we have an affiliate relationship.
Connecting with the mobile hotspot feature of this device is very easy.
Simply pull up the apps that come installed with the phone, find the hotspot app and go from there!
Defining our Terminology: What is a Mobile Hotspot?
Before we go too far, we should explain what a "mobile hotspot" is.
One definition (which had to be based on the service of the user at the time) reads:
It means the phone has the ability to act as a wireless router for sharing your 3G connection with up to 5 Wi-Fi enabled devices.
Naturally, the type of connection and the number of enabled devices depends upon the service one has.
According to a video on Verizon Wireless' website, one 4G LTE Mobile Hotspot can service up to 10 devices.
Since we are Verizon Wireless customers with 4G Smartphones, our service provides 4G connectivity in areas where it is available.
We wish we had been aware of this type of service and Internet connectivity when we went to the Truck Driver Social Media Convention in October 2012.
As it was, we tried to set up a month-long prepaid mobile broadband service using our old 3G flash drive modem.
We ran into trouble on the service side (not the device side).
Given this difficulty, we didn't want a repeat performance on our June 2013 business trip.
What is Required to Set Up a Mobile Hotspot
By early 2013, we had become aware of this Smartphone option.
But for some reason, when we tried to get it to work, it would not come up.
We went to our local Verizon store and were informed that we needed to call customer service to get this service "added."
Vicki called Verizon to add the service on an "a la carte" basis to our account for just the 2 weeks we would be gone (a month at the most).
The customer service representative said that our service plan wasn't a mobile hotspot plan!
That explained why it wouldn't come up!
However, the CSR said that they had a service plan that included that option.
She said that we could even save money on our overall monthly bill if we went with her proposal of
combined data usage (for both of our phones) of 4 GB per month;
unlimited talk and text; and
mobile hotspot as an option.
Since we planned to use the service for Internet access during our trip — and since Mike did not want to risk having overage charges for data for the month — he opted for the 6 GB data plan (with the understanding that we can scale back later, if needed).
We specifically asked if the speed of our mobile hotspot connection would be in proportion to the strength of the cell phone signal.
The answer was "yes."
Smartphone Service Connection Photo Gallery
These photos (enhanced with red boxes) will show how easy it is to set up and connect to a Verizon mobile hotspot on our Smartphones.
Prior to taking these photos, we had already set up the service.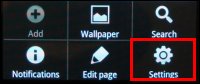 From the menu, press Settings, which brings up another menu.
This menu shows a Wireless and Networks option.
Press that.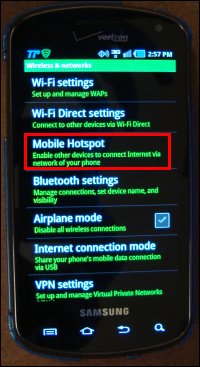 The Wireless and Networks menu shows a Mobile Hotspot option.
Press that.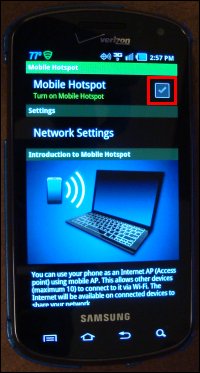 The Mobile Hotspot screen comes up with a box that allows the user to turn on the service.
If this is desired, press the box.
The information below the image of the phone and laptop computer reads:
"You can use your phone as an Internet AP (Access point) using mobile AP. This allows other devices (maximum of 10) to connect to it via Wi-Fi. The Internet will be available on connected devices to share your network."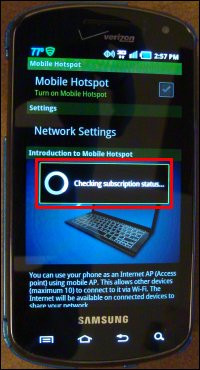 Once the checkbox is pressed, the phone checks the subscription status.
If there is no subscription, no connection will be made.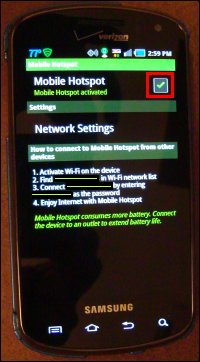 Because we now have the type of service plan that includes this option, we were able to set it up.
Although hard to see, the check mark in the box in the photo at left went from gray in the previous photo to lime green — meaning that a Mobile Hotspot has been set up on this Smartphone.
(Disclaimer: connection details have been edited out of this photo.)
Connecting and Disconnecting
Once a mobile hotspot has been established, a nearby WiFi-enabled computer can establish a password-protected WiFi Internet connection.
Simply enter the correct information to go online.
Every time we connected to this service, we were informed that this service consumes more battery power and that we could connect the device to an outlet to extend battery life.
It is just as easy to disconnect from the service as to connect it.
Just press the check mark in the box on the phone.
On our phones, pressing the box to disconnect the service prompts a pop-up box that reads:
"Linked devices will not access internet after deactivating tethering. Continue?"
Press "Yes" or "No" depending on what you want to do.
Conclusion and Overall Satisfaction
There were times when we both surfed off a single mobile hotspot connection (one phone's service).
Depending on our usage, the connection got pretty slow at times.
Most of the time, however, when we each wanted to surf or do work online, we would set up a separate connection, one on each of our cell phones.
Of course, the data used on each cell phone was counted on our monthly service plan.
We found it very convenient and pretty easy to set up this service wherever we needed it on our trip.
Even though we were at times in places where the strength of cell phone signal was low, we simply waited to connect to the Internet until we were in a place where the signal was stronger.
Overall, we were very happy to have the ability to connect our laptop computers to the Internet via mobile hotspot any time and anywhere that we had our plan-enabled Smartphones.
This is an option for Internet on the road that professional truck drivers may want to consider.
Before one gets rid of mobile broadband service in favor of this type of service, one will need to compare the costs and data limits of the services.
Be aware of the data limits on your account.
Overage charges can apply and be stiff.
---
Return from Verizon Mobile Hotspot Set Up and Usage: A Review for Truckers to our Service Reviews page or our Truck Drivers Money Saving Tips home page.
---