Professional truck drivers crave hearty meals. We reviewed Mountain House Beef Stew in mid-2010 as one such potential meal.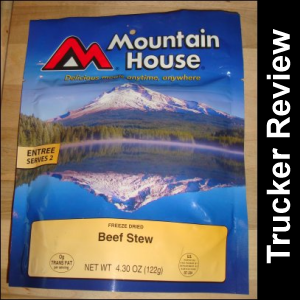 This is a freeze dried food that can be prepared by adding boiling water and waiting for rehydration.
(Previously, we reviewed freeze dried eggs by Mountain House as a breakfast food.)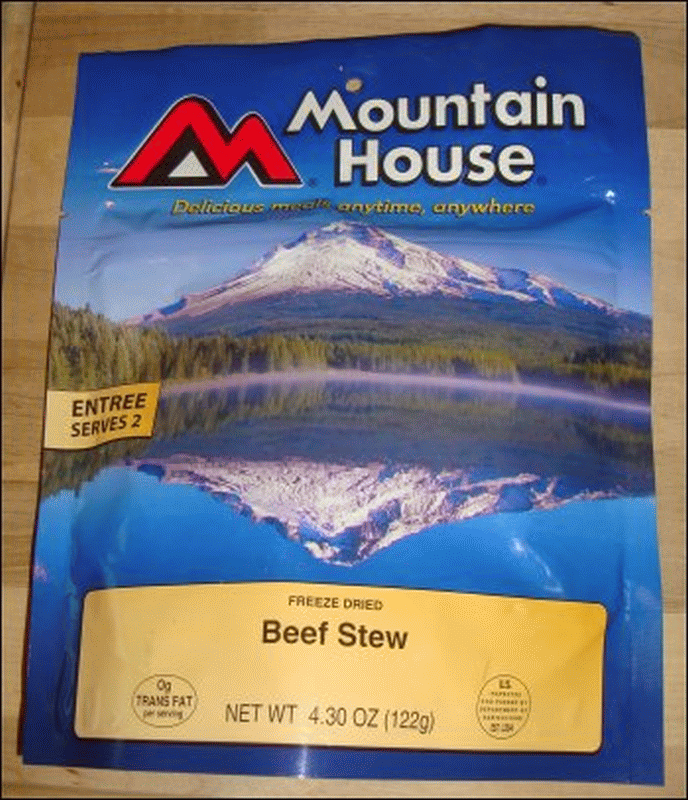 This is a photo of the front panel of Mountain House Beef Stew in a pouch.
The product (4.30 oz. dry) is said to be an entree that serves 2 people.
We chose to make this beef stew the main part of our dinner and to have a side dish of vegetables and bread to go with it.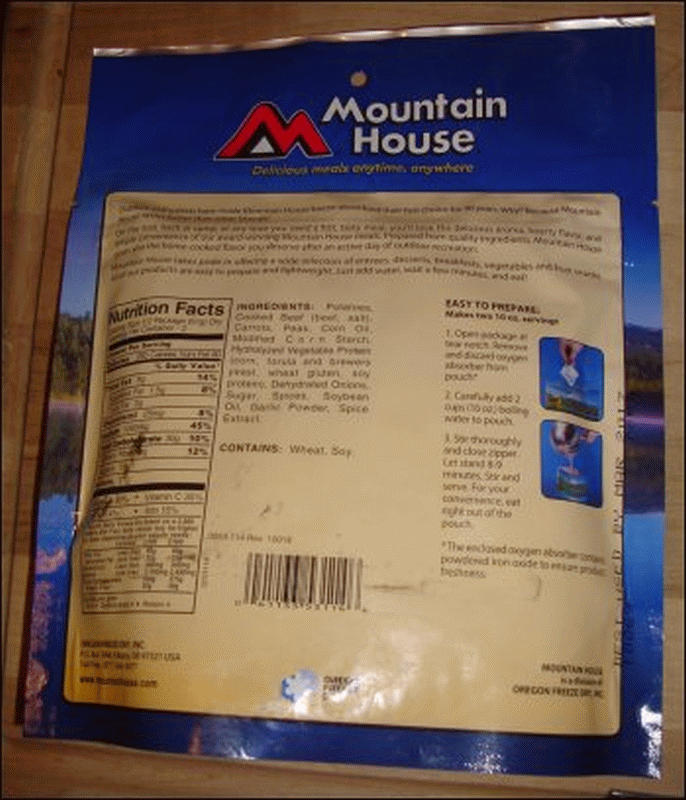 This is a photo of the back panel from a pouch of freeze dried beef stew from Mountain House.
It includes the nutrition facts panel, the list of ingredients and the preparation instructions.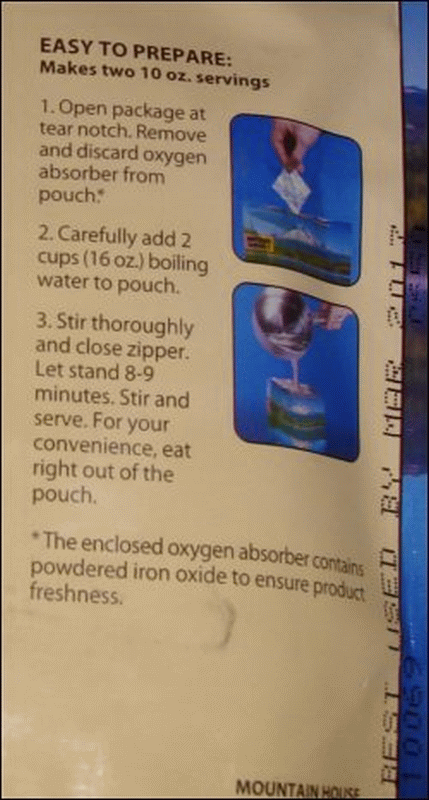 The preparation instructions for Mountain House Beef Stew state:
"EASY TO PREPARE: Makes two 10 oz. servings
"1. Open package at tear notch. Remove and discard oxygen absorber from pouch.
"2. Carefully add 2 cups (16 oz.) boiling water to pouch.
"3. Stir thoroughly and close zipper. Let stand 8-9 minutes. Stir and serve. For your convenience, eat right out of the pouch."
Then there information about what's in the oxygen absorber.
Please note that when we prepare freeze dried foods in a pouch, we use a pair of heavy duty scissors to cut it straight across.
Also, we choose to scoop the hot and rehydrated freeze dried stew into a community bowl from which to eat.
Notice, too, the expiration date on the panel: "Best Used by Mar 2017".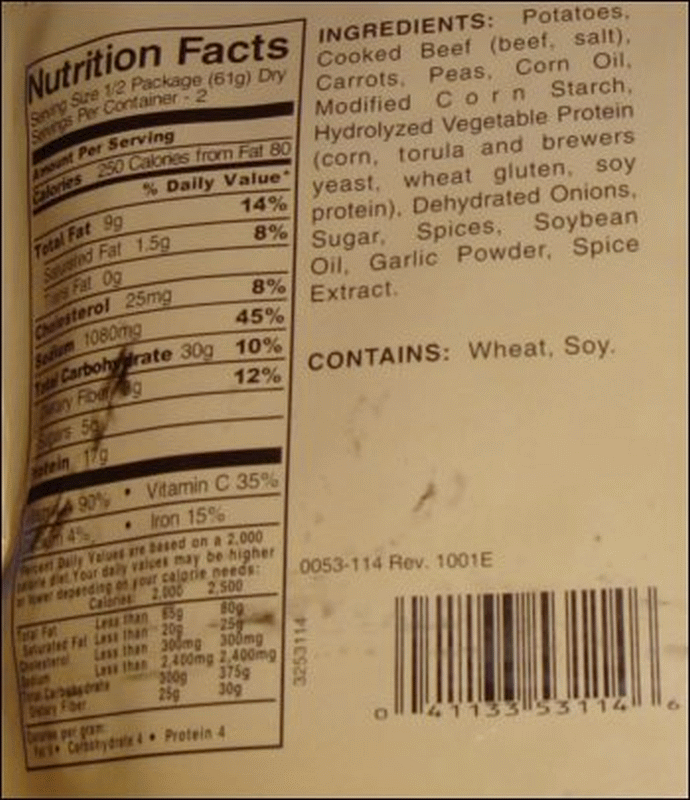 The stated ingredients on the package of freeze dried beef stew are:
"Potatoes, Cooked Beef (beef, salt), Carrots, Peas, Corn Oil, Modified Corn Starch, Hydrolyzed Vegetable Protein (corn, torula and brewers yeast, wheat gluten, soy protein), Dehydrated Onions, Sugar, Spices, Soybean Oil, Garlic Powder, Spice Extract."
Please note that it does contain Wheat and Soy.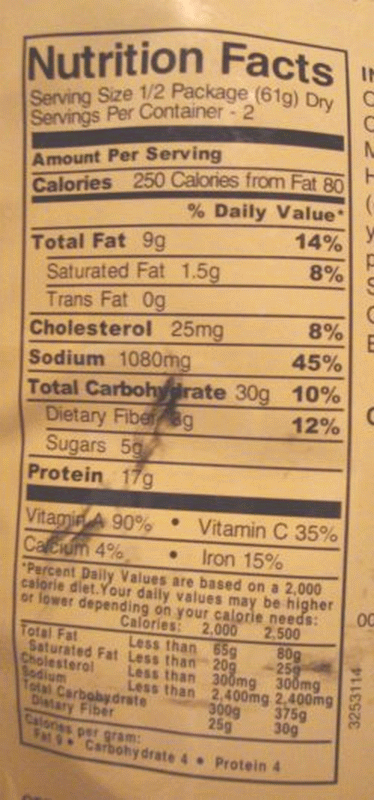 The nutrition facts panel of Mountain House Beef Stew reads in part:
Serving Size: 1/2 Package (61 g) Dry
Servings Per Container: 2
Calories: 250
Total Fat: 9 g
Total Carbohydrate: 30 g
Protein: 17 g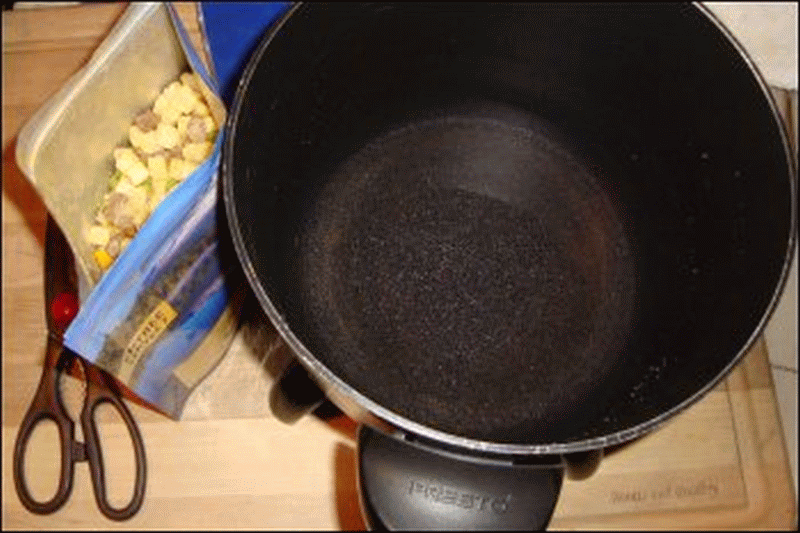 This is the set-up we used to prepare our pouch of freeze dried stew.
After cutting off the top of the pouch, we measured two cups of water in our hot pot, brought it to a boil, and carefully poured it into the pouch.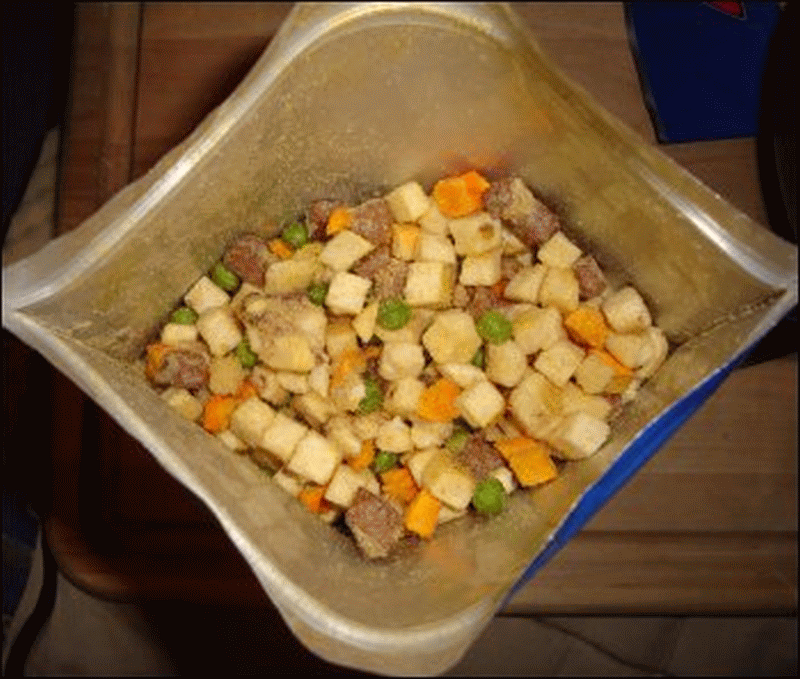 Here's what the freeze dried beef stew looked like in the bottom of the pouch:
– the beige blocks are potatoes,
– the orange blocks are carrots,
– the green spheres are peas and
– the brown blocks are beef.
It even smelled good dry.
Mike carefully stirred the freeze dried beef stew once the boiling water had been added to the pouch.
Then, we wait for the prescribed length of time for the ingredients to rehydrate.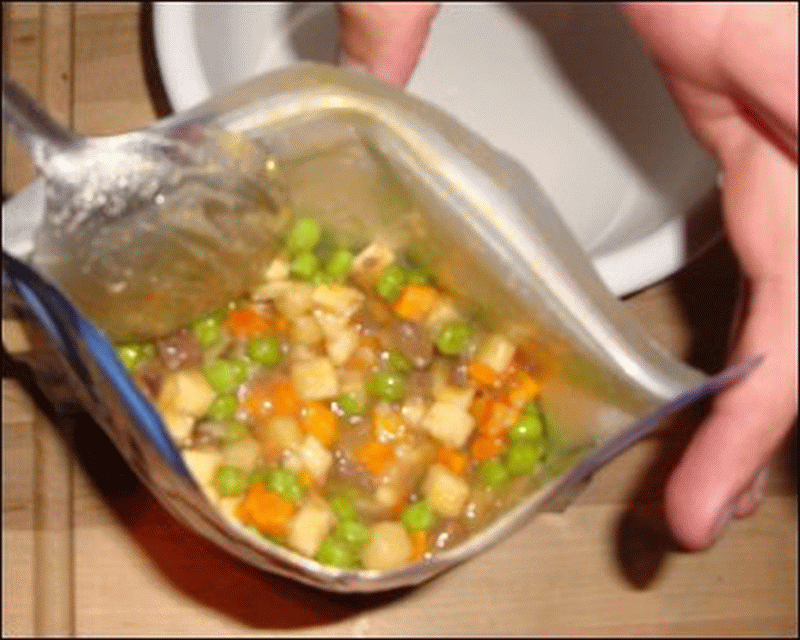 Ooh, yum! Check out the gravy.
Mike stirred up the rehydrated beef stew.
The aroma was most tantalizing.
Mike scooped the beef stew into a bowl.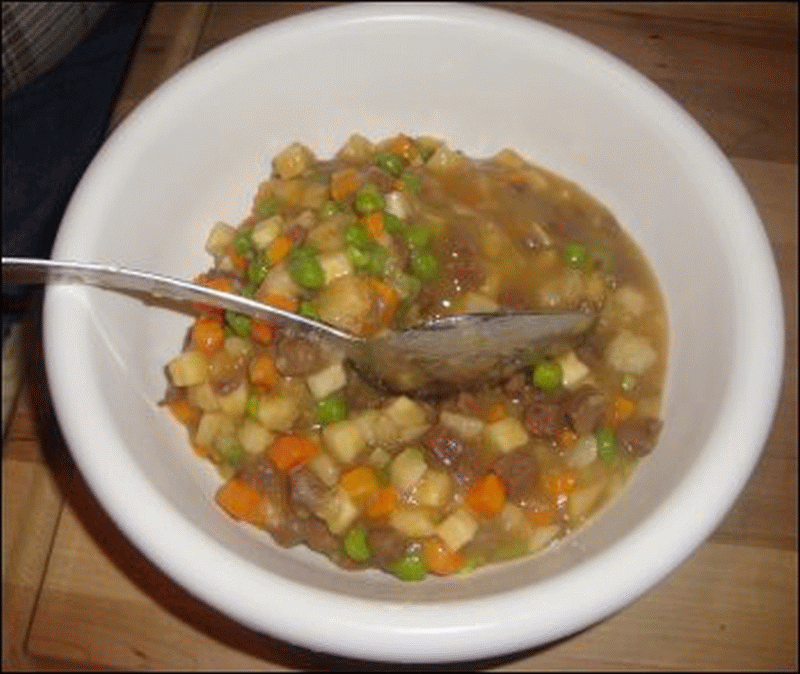 Ok, now this is a pretty good sized bowl and a pretty good sized spoon, but you can see that what was in the pouch makes a pretty good amount of rehydrated food.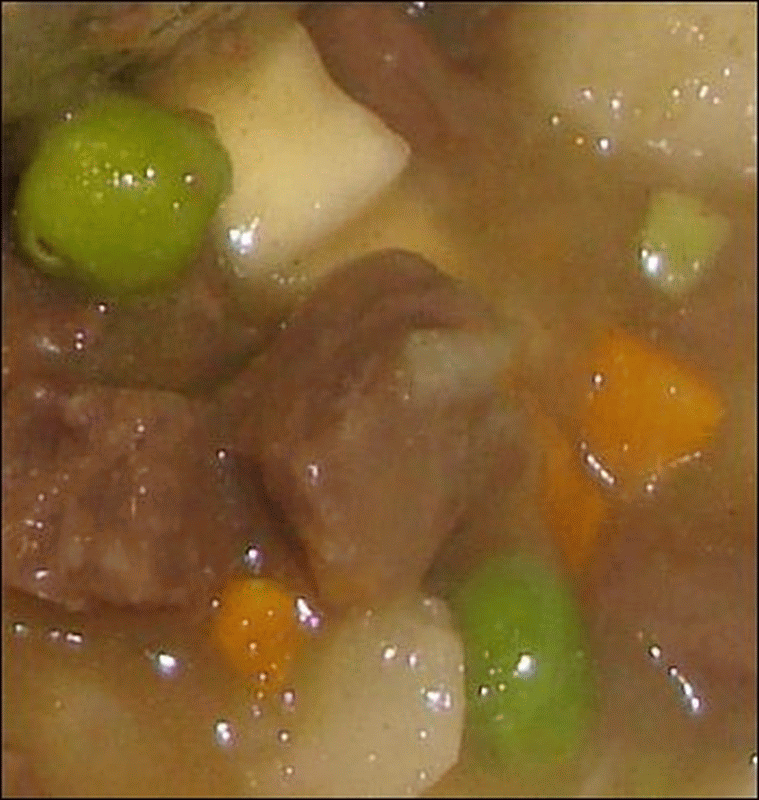 This is a close-up view of the rehydrated Mountain House Beef Stew. See the potatoes, carrots, peas and beef nestling in the gravy.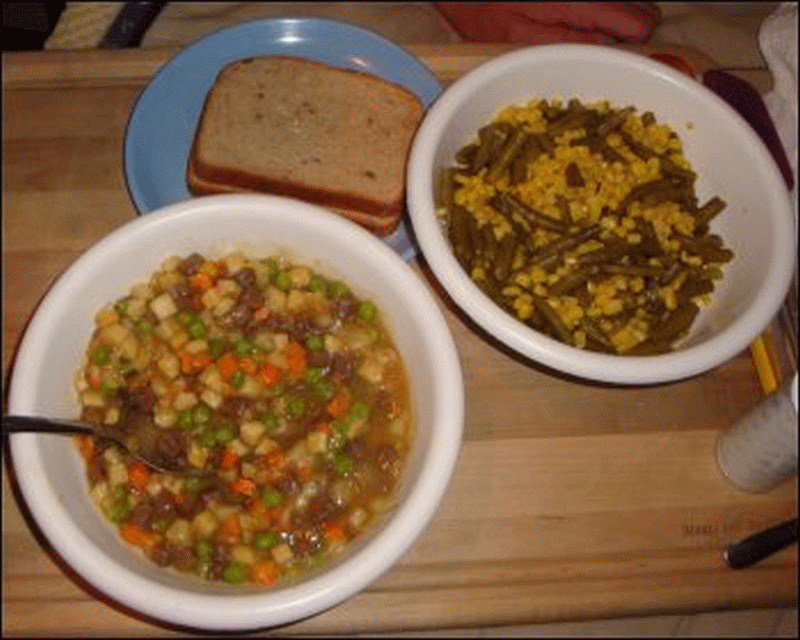 This photo shows our total meal:
– the rehydrated Mountain House beef stew;
– a can each of green beans and whole kernel corn, and
– two slices of 12-grain bread.
Pros
The pouch contained enough product to rehydrate into two 10-ounce servings. This was sufficient for a filling main course for us, but we filled out our meal with another vegetable and bread.
There is a good amount of protein in each pouch.
When fresh beef stew cannot be made (such as in a crock pot) or canned stew is not available, Mountain House Beef Stew a good substitute.
Requires no refrigeration.
Has a long shelf life.
Needed no additional seasoning.
Other than a hot pot for boiling the water, you need no cooking appliances to prepare this dish. All we needed was the appliance, a 1-cup measuring cup, a spoon to stir with, a bowl to put the prepared food in and water. (Of course, to heat the water, we needed an energy source. Read below.)
There were plenty of vegetables in the mix, but not so many that the beef got choked out.
In contrast to some popular canned stews, this product had peas in it, providing the "green vegetable" that nutritionists look for in meals of this type.
The rehydrated beef stew had a nice creamy gravy that was not too salty and did not overwhelm (volume for volume) the other ingredients.
This product had a good taste.
When you need to have emergency food — as long as you have access to, or can arrange to get, boiling hot water — this is a good, hot meal.
With freeze dried food, you don't have to worry about carrying size and weight in your truck.
Cons
Mountain House Beef Stew is more expensive than some other beef stew preparations — due to its preparation.
Mike said that he could tell just a little bit that it had been freeze dried and not prepared fresh. If fresh or canned beef stew is all you can imagine eating, this product is not for you.
Conclusion
Our overall grade for this product on a scale of A+ to F- (with A+ being the best, F- being the worst): A
---
Equipment We Used
Cutting board (which we use as a cooking surface);
1 cup measuring cup;
Large spoon and
Bowl.
Cost
The cost of this meal:
| | |
| --- | --- |
| Freeze Dried Beef Stew (1 pouch) | $5.88 |
| Green beans and corn | $1.00 |
| Two slices of bread | $0.22 (estimated) |
| Total cost of meal | $7.10 |
| Total cost per serving | $3.55 |
Contrast the $5.88 for the Mountain House Beef Stew with the cost of stew for dinner at a truckstop for two. Or $2.94 for one person.
---

Money saving tip: Although this product can be purchased from Amazon.com at the price shown to the right, we bought our pouch from a local Wal-Mart Supercenter (in the sporting goods section) for $5.88.
This is a slightly better buy than the best price from online.
You may be able to find freeze dried meals for a better price if you buy them in bulk, such as through Amazon.com, with which we have an affiliate relationship.
Mountain House Beef Stew | Freeze Dried Survival & Emergency Food | #10 Can | Gluten-Free
Mountain House Beef Stew | Freeze Dried Backpacking & Camping Food | Survival & Emergency Food | Gluten-Free | 6 pack
If you buy a #10 can, you need to bear in mind the limitations associated with the lifespan of the food after you open it.
Remember that properly preserved freeze dried food needs to have less than 2% oxygen.
Once you open a can, you don't have that anymore.
A meal made from fresh ingredients can be made in bulk by a home support team, who can also shop around for the best quality and lowest price ingredients, then portion them up for eating later.
---
Return from Review of Mountain House Beef Stew by Truckers to our Product Reviews page or our Truck Drivers Money Saving Tips home page.
---