This is the TDMST Weekly Round-Up of news affecting professional truck drivers, written by Vicki Simons for the week ending June 8, 2019.
We welcome your comments, thoughts and feedback on the items of your choice below.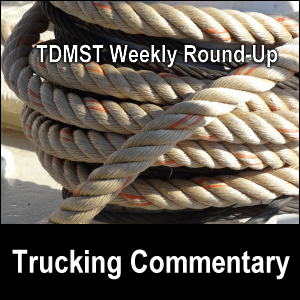 1. Regarding autonomous trucks:
According to a June 5, 2019, article, "The U.S. Postal Service anticipates a time when its trucks will drive themselves from mailbox to mailbox while the mail carriers onboard sorts letters. And on the highway, unmanned big rigs would re-place truckers hauling mail on regional routes."
Furthermore, by reading this, we get more than a hint that U.S. taxpayers are going to be funding this (albeit unwittingly):
"How quickly this happens depends on technology and other issues. The agency needs to find the funds to test and deploy robotic trucks. And it has to keep up with self-driving options to stay competitive with rival delivery companies."
Does it upset you that your tax dollars could be used to put thousands of truckers out of work?
Echoing this sentiment, a May 31, 2019, article stated, "Proposed California regulations for autonomous delivery vehicles received broad support from Waymo and others at a California Department of Motor Vehicles hearing Thursday. But the Teamsters union expressed concern that such vehicles will replace stable middle-class jobs at delivery companies."
And if using autonomous vehicles isn't good enough, consider what was written in a June 5, 2019, article:
"In its drone design, Amazon has been working towards creating a machine that can fly up to 15 miles on a charge and deliver packages under five pounds to customers within a 30-minute time window."
2. Regarding autonomous trucks supposedly improving safety:
Some people are pushing for autonomous vehicles because they believe that their use will increase safety.
Specifically, some 43% of respondents cited that "Reduced accidents and increased safety" are a "significant benefit" of autonomous vehicles.
But when it comes to safety, there are always the actions of other motorists to consider.
Our condolences go to the widow of a trucker who died due to a motorist making a deadly pass.
Based on what I have read, with "likely… very little time to avoid the head-on collision", a self-driven truck most likely would have wound up in a collision, too.
Sudden stops (like behind other vehicles that make sudden stops) can potentially lead to either jackknifing situations or being rear-ended by motorists from behind.
Furthermore, I wonder how autonomous trucks will be able to compensate for errors by other motorists, such as:
3. Regarding fuel savings and fuel economy:
A June 6, 2019, article revealed "6 Simple Steps to Fuel Savings for Truck Fleets."
In that article, Brent Nussbaum, CEO of Hudson, Illinois-based Nussbaum Transportation, was quoted as saying that "the fleet's company drivers [helped] the carrier score 8.97 mpg fleetwide for all of 2018, including winter mileage" and "Some of our best drivers averaged 10.66 for the whole year, and others reached as high as 11.5 in certain months."
4. Regarding truck driver pay:
According to a June 3, 2019, article, "The quarterly survey also found that while sign-on bonuses remain an important recruiting tool for fleets, some fleets were beginning to take the viewpoint that guaranteed pay and transition bonuses were a better reflection of a driver's value."
A June 7, 2019, article stated, "A recent survey conducted by the National Transportation Institute (NTI), found truck driver compensation increases continued in the first quarter of 2019, but not nearly at the same rate as in 2018."
Meanwhile, a June 7, 2019, article stated, "The Tax Cuts and Jobs Act has had an overall positive impact for owner-operators in 2018, according to trucking tax expert and business assistance provider, ATBS."
This was also reported here.
A June 6, 2019, article stated, "Strong GDP growth does not inherently indicate a strong freight market".
In a video embedded in an article entitled "Are You Willing to Go to Jail For Your Truck Driving Job?", Dave stated:
"I think you should be properly compensated for the kind of risk that you're taking as a truck driver — and the risks are there. Other industries call it danger pay."
The FMCSA has asked truckers how much of their time is wasted loading and unloading during a 90-day public comment period.
5. Regarding hauling hemp:
A May 31, 2019, article provided some background and then reported on news regarding hauling hemp.
"Last year, the Agriculture Improvement Act of 2018 (2018 Farm Bill) authorized the production of hemp and removed hemp and hemp seeds from the Drug Enforcement Administration's schedule of Controlled Substances."
"Prior to its reclassification last year, however, hemp was lumped in the same category as marijuana as a Schedule 1 narcotic under the Controlled Substances Act — a law that banned any cannabis of any kind in the U.S."
USDA's Office of General Counsel, the agency's legal counsel, Stephen Vaden stated that "states and Indian tribes may not prohibit the interstate transportation or shipment of hemp lawfully produced":
"under the 2014 Farm Bill";
"under a state or tribal plan"; or
"under a license issued under the USDA plan."
You may read more about transporting hemp.(a)
I have just one question about this:
If "federal law trumps state law" in this respect, what happens to states' rights under Amendment X to the U.S. Constitution?
Hmm…
6. Regarding negotiating curves in a big rig:
Failure to negotiate a slight curve on Wyoming 230 is the reason that authorities have given for why a Wyoming truck driver's truck "left the roadway and plunged into a ravine", costing the trucker his life.
The article states, "The speed limit on the highway is 70 mph, but signs through the area where the crash occurred caution drivers to slow down to 40 mph when navigating the curvy, steep highway."
Our condolences go to the trucker's family.
Please remember to slow down before you
drive into a curve,
make turns (even within truck stops), or
enter curved or somewhat circular on-ramps and off-ramps.
7. Regarding drinking and driving a truck:
"A Mississippi truck driver who was drunk at the time the tractor-trailer he was operating along I-83 last October plowed into traffic killing 3 people including a 16-month old girl, pleaded guilty to a slew of felonies on Tuesday," stated a June 4, 2019, article.
This fatality was also reported here.
Do not consume alcohol in any form (including in cough syrup) before driving a truck.
8. Regarding being able to stop in time:
A June 3, 2019, article reveals that a trucker blamed his inability to stop in time to prevent an 11-vehicle pileup on another motorist who cut him off.
However, the video from the truck's forward-facing camera (embedded in this article) clearly reveals that he was simply driving too fast when he encountered slowed or stopped traffic on I-45.
Truckers must continually anticipate slowed or stopped traffic and be prepared to stop their rigs in time to prevent a collision.
9. Regarding the use of electronics in trucking:
A June 4, 2019, article addressed "Tools to help truckers get their jobs done" ranging
from a GPS unit to a headlamp and
from a fuel container to a fuel additive.
A June 6, 2019, article addressed, "our over-reliance on turn-by-turn navigation" and its implications:
"Electronic GPS navigation aids, as wrote Telegraph Science Editor Sarah Knapton, 'could be damaging people's brains and may even contribute to the development of … disease.'"
We encourage truckers to learn the "old-fashioned way" of routing themselves using a trucker's atlas with truck routes and low clearances clearly listed.
Meanwhile, would you be willing to share data from your ELD in order to potentially save money on your truck insurance?
10. Regarding Uptis, or Unique Puncture-proof Tire System:
"On Tuesday, June 4, Michelin introduced a new prototype tire called Uptis. The tire was created in collaboration with General Motors to create airless wheel technology, eliminating the risks of flat tires," stated this article.(b)
The current focus is on passenger vehicles and a "five-year development process" needs to be completed before the application of airless tires makes its way to larger vehicles.
Recall that about two years ago, Michelin released their "futuristic concept" of an "airless, connected, 'rechargeable', customizable and all-organic… tire".
According to Wikipedia, "Airless tires, or non-pneumatic tires (NPT), are tires that are not supported by air pressure."
Based on what you know right now about "airless tires", do you think that this technology will catch on?
How much money do you think it will save truckers one day?
11. Regarding the 2019 CVSA International Roadcheck:
According to a June 5, 2019, article, Maryland State "Police say that 24% of the nearly 500 inspected trucks were placed out of service 'for a variety of critical safety violations.'"
Ouch!
12. Goodbye, Truckers Savings App
Mike and I appreciate everyone who installed and used our Truckers Savings App.
We have determined that there is not as much demand for our content through the app as there is through other platforms.
We will unpublish it from the Google Play Store in mid-June 2019.
If you have this app on your Android phone, please uninstall it now.
Thanks.
13. Congratulations!
We applaud all of the winners of recent trucking competitions, including:
According to
nominations are open for the 2019 Mike O'Connell Trucking's Top Rookie Award contest — as presented by Truckers News — and the winner will receive "$10,000 and a package of prizes."
I look forward to reading about who wins this award.
My husband Mike and I wish you — and all professional truck drivers — safe travels and lots of money saving opportunities on the road.
---
---
Return from TDMST Weekly Round-Up: 2019.06.08 to our TDMST Weekly Round-Up Trucking Commentary or our Truck Drivers Money Saving Tips home page.
---
Reference:
a. www.landlinemag.com/Story.aspx?StoryID=74341 (no longer online)
b. www.landlinemag.com/Story.aspx?StoryID=74332 (no longer online)