This is the TDMST Weekly Round-Up of news affecting professional truck drivers, written by Vicki Simons for the week ending December 22, 2018.
We welcome your comments, thoughts and feedback on the items of your choice below.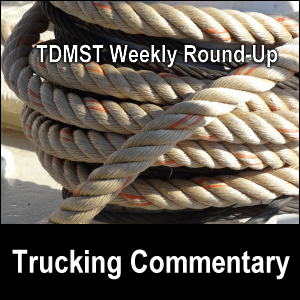 1. Regarding states' rights:
When the U.S. DOT preempted California's Meal and Rest Break Rules on December 21, 2018, another nail in the coffin of states' rights was hammered into place.
It is as though the Tenth Amendment to the U.S. Constitution doesn't even exist!
In my opinion, the claim by FMCSA Administrator Raymond P. Martinez that "California's meal and rest rules not only pose a safety risk, but also lead to a loss in productivity and ultimately hurt American consumers" has never been proven.
And speaking about lost productivity, what about that required 30-minute rest break provision in the Hours of Service regulation?
I am waiting to see if any of our U.S. Congress members and/or U.S. Senators have the backbone to tell the DOT "NO!"
Here are my comments to the FMCSA on CA's meal and rest breaks.
2. Regarding cargo theft and holidays:
With the Christmas and New Year's holidays right around the corner, there is also an opportunity for "increased cargo theft activity".
Please follow your trucking company's procedures for securing the tractor, trailer and cargo that are under your care at all times.
3. Regarding trucker deaths:
A December 20, 2018, article stated: "Truck driver occupational fatalities rose in 2017 to the highest number since at least 2003, according to numbers released Tuesday by the Department of Labor's Bureau of Labor Statistics."
This is a "record high" number of "motor vehicle operators killed on the job" and "the most since it began tracking occupational statistics in 2003".
A separate article stated, "The Department of Labor report did not provide any clues as to why truck driver workplace fatalities are on the rise."
4. Regarding telematics:
One premise of some telematics systems that use "live video from inward and outward-facing cameras" is alerting drivers when they're getting drowsy while driving or engaging in "risky driving behaviors".
While the article stated, "In 2016, driver distraction was a factor in six percent of the 4,564 lives lost in fatal crashes that involved large trucks or buses", it did not say what percentage of those were the fault of the truck or bus driver.
I'm glad that the spokesman from the SmartDrive vision-based safety platform said, "The backup driver for an autonomous vehicle must be as attentive as if they were behind the wheel of a non-autonomous vehicle."
This means that professional truck drivers will play an important role in operating trucks for a good while yet.
A separate article addressed Nationwide insurance partnering with Lytx to "offer its DriveCam safety program to long-haul trucking companies" for the purpose of instilling "safer driving habits".
5. Regarding black ice:
According to a December 19, 2018, article, "Five tractor trailers were involved in a fatal accident on Wednesday morning due to [extreme] black ice and heavy fog."
Separately, "[two] truck drivers died and a firefighter was injured in a pre-dawn, five-truck pileup on I-90 in Montana Wednesday" that was attributed to "black ice on a bridge".
Please slow down when conditions lend themselves to the formation of black ice, especially when there are other complicating factors like fog and/or precipitation.
Remember that bridges freeze before the rest of surrounding road surfaces do.
If it is necessary for the safe operation of your truck, park until weather conditions improve.
Our condolences go the families of those who died in connection with these crashes.
6. Regarding medical emergencies:
As of publication time, it had not yet been determined if the trucker who had a medical emergency died from that or from the resulting crash.
Our condolences go to his family.
Medical emergencies seem to be responsible for an increasing number of truck crashes.
Please take care of your health and wellness.
7. Regarding facial recognition technology:
A December 18, 2018, article stated, "The Peace Bridge Authority is teaming up with U.S. Customs and Border Protection to test facial recognition technology on commercial vehicle drivers at the Fort Erie border crossing".
My question is: Will this save truckers time and/or money?
8. Regarding truck speed:
The outcome of driving too fast for conditions usually never ends well.
A video showed a trucker overturning his truck due to speed before sunrise on December 13 in downtown Louisville, Kentucky.
9. Regarding truck maneuvering:
One trucker had problems with both a tight turn and backing up at 4 a.m. on December 17, 2018.
He ended up with his truck "dangling from [an] overpass".
Do everything you can to anticipate and prepare for tight turns — and make sure you can see what's behind you before you start backing up.
10. Regarding preventable accidents:
A December 17, 2018, article described how an SUV driver tried to "bully a semi truck in the next lane" when his lane was ending.
While I agree that the SUV driver was mostly to blame for this accident, based upon the ruling by the National Safety Council of another clipped vehicle, the trucker to the right could have slowed down to let the impatient SUV driver go ahead.
No, this action wasn't required, but it could have prevented a lane-ending accident.
11. Regarding trucker pay:
Here's a great question for truckers following the debunking of being classified as "unskilled labor":
"If the [Fair Labor Standards Act] exemption were removed and carriers were forced to adjust to the reality of overtime pay requirements, do you think your own particular situation in the industry would improve ultimately or not?"
Separately, we read:
Hours-of-service rules digitally monitored by electronic logging devices cut into how much drivers earn because a truck's ELD ticks down time when drivers are waiting for a dock or for cargo unloading. That reduces miles driven. Drivers can no longer edit driving logs like they could when they were on paper.
I disagree that it is the ELDs that cut into a driver's paycheck.
The model of paying truckers based on miles driven is broken because of all the time they are responsible for loads but are not able to roll down the road, such as when they're waiting at docks or dealing with bad weather, construction and accidents.
Wouldn't it be better to pay truckers:
– an hourly wage for all time spent on the job; or
– an hourly rate plus some other metric of performance?
My husband Mike and I wish you — and all professional truck drivers — safe travels and lots of money saving opportunities on the road.
We also wish you a blessed Christmas.
---
---
Return from TDMST Weekly Round-Up: 2018.12.22 to our TDMST Weekly Round-Up Trucking Commentary or our Truck Drivers Money Saving Tips home page.