This is the TDMST Weekly Round-Up of news affecting professional truck drivers, written by Vicki Simons for the week ending March 30, 2019.
We welcome your comments, thoughts and feedback on the items of your choice below.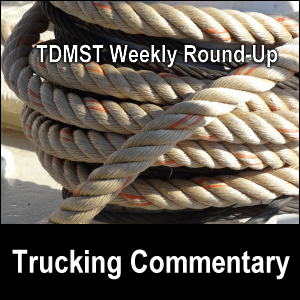 1. Regarding CVSA's 2019 International Roadcheck:
According to a March 26, 2019, article, "The Commercial Vehicle Safety Alliance (CVSA) has announced … that 2019 International Roadcheck will be taking place from June 4 – 6 throughout the United States, Mexico, and Canada."
Furthermore, "this year's violation emphasis category [will be] steering components and suspension systems."
Related articles are here(a), here and here.
You will always want to keep your truck in tip-top condition, not just before a planned safety inspection.
2. Regarding truck tolls:
Although Wyoming lawmakers were unsuccessful in imposing tolls on I-80 in 2009, one state Senator wants to toll the entire length of the state's interstate highway.
The article further states that an "estimated 85,000 to 100,000 vehicles pass through the proposed toll stretch of I-80 each day" in Will County, Illinois, that some state lawmakers want to transition to a toll road there.
3. Regarding load vs. overpass heights:
A truck driver took a load of cars that was too tall to fit under an overpass in Norwalk, Connecticut, according to a March 25, 2019, article and the video embedded in it.
Always know the height of your load and never attempt to take under an overpass a rig that is taller (because it won't fit!)
See our Low Clearance page for tips.
4. Regarding watching for stopped traffic:
The surveillance video embedded in a March 28, 2019, article clearly shows that a truck failed to stop for a stopped school bus, resulting in "an intense rear end crash".
Although truckers should always be on the lookout for slowed or stopped traffic, it is ultra-important to do so on school bus routes.
5. Regarding lane changes:
The video embedded in a March 24, 2019, article clearly shows that a truck driver was in the process of changing lanes right into the path of a car in that lane and wound up overturning.
Before you attempt to change lanes, make sure that there are no vehicles in the space that you want to move into.
Mike and I have found that three extra mirrors on the trucks we have driven really help:
a "fish eye" mirror on the left and right sides of the hood (to look down the left and right sides of the truck, respectively); and
a mirror above the passenger window (so you can see if there is a vehicle immediately to your right).
Also, as I watched the video, it concerned me that the trucker that eventually overturned was traveling too fast.
Don't be in too big of a hurry.
6. Regarding owner-operator helps:
A March 26, 2019, article lists "7 ways" that new owner-operators can reduce their expenses, two of which are
being more fuel efficient and
getting paid for detention time.
Separately, Land Line Magazine published an article about "Red flags to watch for in a lease-purchase".(b)
7. Regarding truck parking:
There were a number of articles this week about truck parking:
Members of the Owner-Operator Independent Drivers Association (OOIDA) and Association representatives met before the beginning of the 2019 MATS "for a dialogue about the biggest issues facing drivers on the road." One trucking couple was outspoken about "the lack of safe, available truck parking."(c)
Separately, it was reported that bills in California, Connecticut, Virginia and Washington "address truck parking concerns."(d)
Furthermore, it was reported that among the "critical industry issues" that the American Transportation Research Institute (ATRI) has as "its 2019 research priorities" is "truck parking information systems".
This article says regarding ATRI kicking off "truck parking research at MATS" that truck parking is "one of the hottest topics in the industry."
While I'm glad that ATRI will be looking at this, don't we already know the answers that they will find?
8. Regarding pressure to violate HOS since the ELD mandate:
As of early on March 29, 2019, a poll on Overdrive.com reports that 49.53% of respondents (or 787 votes out of 1,589 total votes) stated that they have "felt pressured by carriers, brokers or shippers to violate hours regs" … "More often than before the mandate".
We knew this was going to happen, didn't we?
9. Regarding commercial windshield repair kit:
If you use Rockpro's windshield repair kit, as is described here, please write and submit a product review.
10. Regarding drone deliveries:
A March 27, 2019, article reported that once the company gains FAA approval, the United Parcel Service (UPS) "will begin using drones to deliver medical samples at WakeMed's flagship hospital in Raleigh, N.C."
I anticipate that we will see more and more "lighter packages" delivered by drone in the coming years.
Just saying.
11. Regarding truck parking at Walmart:
A March 21, 2019, article reported, "[A Springfield,] Illinois Walmart… is finally giving in to city officials and eliminating semi truck parking after they were hit with tens of thousands of dollars worth of fines."
Ouch!
But that's not the end of it.
Now we read that "The Small Business in Transportation Coalition (SBTC) is … demanding answers from more city leaders about the lack of accommodations being made for tractor-trailer parking" at that Walmart Supercenter.
The letter signed by SBTC president James Lamb was, in my opinion, well-worded and I'm glad he's going to bat for truckers.
12. Regarding MATS goodies:
Did you find any products or services at the Mid-America Trucking Show that will help you save money, time, or both?
If so, what was it (or were they)?
Please comment below. Thanks.
My husband Mike and I wish you — and all professional truck drivers — safe travels and lots of money saving opportunities on the road.
---
---
Return from TDMST Weekly Round-Up: 2019.03.30 to our TDMST Weekly Round-Up Trucking Commentary or our Truck Drivers Money Saving Tips home page.
---
Reference:
a. www.landlinemag.com/Story.aspx?StoryID=73959 (no longer online)
b. tandemthoughts.landlinemag.com/ooida/red-flags-to-watch-for-in-a-lease-purchase/ (no longer online)
c. tandemthoughts.landlinemag.com/ooida/members-sound-off-on-truck-parking-hours-of-service-during-ooida-town-hall/ (no longer online)
d. www.landlinemag.com/Story.aspx?StoryID=73951#.XJ2_alVKiM8 (no longer online)
e. www.landlinemag.com/Story.aspx?StoryID=73951 (no longer online)