This is the TDMST Weekly Round-Up of news affecting professional truck drivers, written by Vicki Simons for the week ending June 15, 2019.
We welcome your comments, thoughts and feedback on the items of your choice below.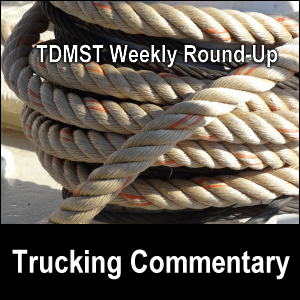 1. Regarding the state of the trucking industry:
Todd Spencer, president of the Owner-Operator Independent Drivers Association (OOIDA), spoke before a U.S. congressional panel this week and raised concerns about "the most critical components" of the trucking industry: the drivers.
Spencer's testimony during the hearing — entitled "Under Pressure — The State of Trucking in America" — included "a bleak picture of the American truck driver, saying that a demanding schedule, low pay and restrictive regulations have made a career in trucking unappealing, unsafe and unsustainable."
Other witnesses joined Mr. Spencer in speaking out.(a)
More on this topic was written here and here(a).
Since unpaid detention in docks is a big issue for many truckers, the FMCSA wants to have truckers' comments on this topic, as was written here, here, here(b) and here.
2. Regarding tariffs on Mexico:
According to a June 7, 2019, article, "the trucking and automotive industries are warning that [escalating tariffs on Mexico] would have devastating effects on their sectors".
The article states that President Donald Trump's "tariffs would start at 5% on June 10, steadily rising until it reaches 25% on Oct. 1 unless Mexico stops immigrants from entering the U.S. illegally."
The article provided a number of statistics about the amount of trade between the USA and Mexico — and the number of Americans whose jobs might be affected by the tariffs.
While the tariffs would increase the cost of goods that come from Mexico, how else should the USA deal with the illegal immigration issue at its southern border?
3. Regarding Hours of Service regulation:
The FMCSA missed their proposed June 7, 2019, goal for rewriting the federal Hours of Service regulation.
Much has been written about what needs to be done to reform the HOS regulation, including what was written in a June 12, 2019, article about how truckers want the 30-minute rest break eliminated.
Henry Albert is an owner-operator based in North Carolina, whom I greatly respect.
He was quoted as saying: "If everybody was restricted to driving eight hours a day, eight hours would be worth what 11 hours is today. The more you limit the supply, the more my time is worth."
I agree.
4. Regarding efficient drivers:
The headline of a June 12, 2019, article stated that fuel efficient drivers "Slow Down and Plan Ahead".
The trucker who was highlighted, Alec Costerus, "carefully chooses his loads and time his routes so he can operate only as fast as necessary."
Another article asked, "Are Drop And Hooks Really Any Better Than Live Loads?" — and answered negatively.
5. Regarding autonomous trucks:
6. Regarding so-called drugged truckers:
A June 12, 2019, article stated:
"A safety-focused group of trucking and logistics companies has released the results of what it calls a first-of-its-kind study showing 'compelling evidence that thousands of habitual drug users are skirting a system designed to prohibit drug use in transportation.'"
Some truckers have questioned the associations of the "safety group" known as "Trucking Alliance", which supposedly found that "urinalysis [tests] missed 9 out of 10 illicit drug users".
One article here stated that the Trucking Alliance wants to purge 300,000 truckers from the trucking industry.
Lane Kidd, Managing Director of Trucking Alliance, suggested that trucking accidents are on the rise at least in part due to trucker drug use.
In this article, we read:
"This survey data compared the pre-employment drug test results of 151,662 truck driver applicants, who were asked to submit to two drug tests — a urinalysis and a hair analysis. … Ninety-four percent (94%) of the truck driver applicants tested drug-free…"
A June 13, 2019, article stated: "The U.S. Department of Health and Services' final rule regarding the use of hair samples to test for drugs was sent to the White House Office of Management and Budget on Tuesday, June 11."(c)
Furthermore, we know that a Drug and Alcohol Clearinghouse is already in the works (see my TDMST Weekly Round-Up for the week ending April 6, 2019).
While it is admirable that the Trucking Alliance wants to "reduce large truck crash fatalities and injuries because large truck crash fatalities can be eliminated", one must always remember that there are other motorists on the road who do stupid things, like making a u-turn right in the path of a big rig.
If one goal of the Trucking Alliance is to replace truckers with driverless trucks, one must remember that autonomous trucks:
won't be able to stop the poor judgments of other motorists on the road and
won't be immune to breaking down mechanically on the road.
7. Regarding safe merging and passing:
The video embedded in a June 10, 2019, article clearly shows that a tractor-trailer driver did not have sufficient room to merge in front of a red car and it was no wonder that the motorist — after passing back by the truck — "brake checked" the truck!
Meanwhile a truck driver "tried to pass on the left [of a bus that slowed to make a left turn and ended up] colliding with the front driver's side of the bus."
Make sure that when you have sufficient room anytime you:
are merging in front of other vehicles,
changing lanes; and/or
preparing to pass another vehicle.
8. Regarding International Roadcheck numbers:
We learn from a June 11, 2019, article that during the CVSA's Roadcheck, "State police from Rhode Island and New Hampshire conducted more than 900 inspections resulting in 1,900 violations — more than 300 of which were out-of-service violations."
More on this was written here.
I'm wondering how well autonomous trucks will be maintained, if they will be inspected during Roadcheck events, and if so, will any be put out-of-service. Hmm…
9. Regarding Electronic Logging Devices (ELDs):
Are you finding that ELD data is helping you to acquire more or better-timed loads through "'predictive' matching"?
Meanwhile Canada officially announced their own ELD mandate.
10. Regarding elimination of red light cameras:
Texas Governor Greg Abbott "signed into law a bill to prohibit cities from using photo systems to fine drivers for running red lights."(d)
Hurray!
11. Regarding Louisville river crossing tolls:
According to a June 12, 2019, article, "RiverLink is raising the toll fees about 2.5 percent starting July 1 [to travel over the Ohio River to get to Louisville, Kentucky]."
Tolls will be collected on "the Interstate 65 bridges connecting Indiana to Kentucky", namely:
the SR 265 Lewis and Clark Bridge,
the I-65 Abraham Lincoln Bridge, and
the I-65 Kennedy Bridge.
Tolls will not be collected on the "I-64 and the U.S. 31 bridges across the Ohio River".
Be aware that only more recent trucker atlases will show the tolling locations in Louisville.
Plan your routing appropriately and realize that crossing on a non-toll bridge:
may not be the most direct route and
may be delayed by congestion from other frugal motorists.
12. Regarding avoiding truck weigh stations:
Previously, we wrote regarding avoiding overweight fines that one could take "a legal truck route… [to] go around [a] permanent scale."
I have learned from a June 11, 2019, article that Illinois State Police have begun "Operation ByPass", which "is designed to target truck drivers who knowingly avoid the fixed weigh stations located in District 5 when the scales are open and operational."
The article lists the locations of the 6 weigh stations where the targeting is occurring.
13. Regarding "Run on Less" fleets:
A June 13, 2019, article stated: "The North American Council for Freight Efficiency (NACFE) has picked 10 fleets for its Run on Less Regional, a freight efficiency campaign showcasing trucks operating in a variety of regional haul applications."
Two years ago, the "long-haul fuel efficiency demonstration achieved a cumulative average of 10.1 mpg during 99 days of driving".
I look forward to learning more just before the North American Commercial Vehicle Show in October.
14. Congratulations!
Our heartiest congratulations go to the winners of:
That's super!
My husband Mike and I wish you — and all professional truck drivers — safe travels and lots of money saving opportunities on the road.
---
---
Return from TDMST Weekly Round-Up: 2019.06.15 to our TDMST Weekly Round-Up Trucking Commentary or our Truck Drivers Money Saving Tips home page.
---
Reference:
a. www.landlinemag.com/Story.aspx?StoryID=74362 (no longer online)
b. www.landlinemag.com/Story.aspx?StoryID=74354 (no longer online)
c. www.landlinemag.com/Story.aspx?StoryID=74381 (no longer online)
d. www.landlinemag.com/Story.aspx?StoryID=74351 (no longer online)