This is the TDMST Weekly Round-Up of news affecting professional truck drivers, written by Vicki Simons for the week ending December 7, 2019.
We welcome your comments, thoughts and feedback on the items of your choice below.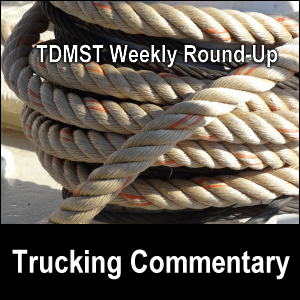 1. Regarding overzealous bad weather instructions:
No matter what your trucking company's dispatcher or driver manager may say, he/she is not in charge of operating your truck.
You are.
You must operate your vehicle safely and know when conditions become so bad that you need to park and refuse to drive.
I was glad to read that Swift Transportation:
reversed the instruction of a "driver leader" who instructed truckers to "chain up" and keep moving despite bad winter weather; and
issued their "stance on chain usage".
Good!
BTW, I am convinced that reactions from truckers via social media were what led up to this "correction".
2. Regarding staying compliant with the FMCSR:
A December 4, 2019, article included a photo showed a non-compliant seat — a folding camp chair — in a commercial motor vehicle.
For reference purposes, here are the links to the
Now, apart from what the Federal Regulations say about seats and seat belt usage in commercial motor vehicles, can you imagine:
how unsafe it would be to drive a big rig in a seat that wasn't firmly attached to the tractor's floor; or
how many physical problems could arise from not sitting in an air ride seat while bumping down the road every day?
Ouch!
3. Regarding truck tolls:
According to a December 6, 2019, article, "the U.S. Court of Appeals for the First Circuit [has held that the ATA's] lawsuit over Rhode Island's truck-only tolls could proceed in federal court."
Meanwhile there's talk of truck-only tolls in the state of Connecticut.
4. Regarding trucking technology:
A November 28, 2019, article revealed that a Canadian tech start-up has developed "an adaptor that fits on any electric impact wrench… and then can raise or lower the landing gear quickly at the press of a button."
Do you think this product is practical and could save you time, money, physical exertion or something else?
Please comment below.
---
Meanwhile, we read:
"Money and merchandise are lost every time van freight gets damaged from shifting, colliding, and breaking up during transit"; and
"Inflatable dunnage bags are an 'out-of-the-box' solution for filling empty spaces in van and reefer trailers."
How many times have you had to restack freight that fell over — even in spite of pallet wrap — or had to take care of goods that a receiver would not take because it was damaged during transport?
Do you believe that inflatable dunnage bags are a good idea?
Please comment below.
---
Does your trucking company have a policy regarding getting truck tires retread?
I used to have very decided and unfavorable views about using retread tires.
It seems that truck tire retreading has changed yet again.
How much money have you saved by using retread tires over the years?
Please comment below.
---
We read that "Penske Truck Leasing said it has logged 10,000 evaluation miles on the two Freightliner eCascadia electric tractors it acquired in August."
More on this was written here.
If you drive one of these electric trucks, would you please write a product review?
---
Do you remember 2 years ago when the first ELD mandate went into effect?
Well, "all carriers subject to the ELD rule that are now using an AOBRD must have a fully operational ELD installed on… Dec. 17" and the FMCSA will allow no extensions or exceptions to the deadline.
Other articles about no "soft enforcement" of AOBRDs to ELDs were written here and here.
---
Meanwhile, we read that the "Occupational Safety and Health Administration issued a news release on a finding that UPS Freight violated the Surface Transportation Assistance Act when managers retaliated against a driver at the Londonderry, N.H., facility [after the driver] refused to operate a commercial motor vehicle that did not have either a permanent electronic logging device or a mounting device for a portable ELD" — because he believed that doing so would violate the FMCSR!
Good for him! And I'm super glad he was vindicated!
Trucking companies cannot force truckers to drive in violation of the law. Period.
More on this topic was written here.
---
FWIW, this article seems to validate what I wrote in my Comments to FMCSA on Proposed Hours of Service Regulations Change:
"While it seems as though the number of crashes has increased greatly since the ELD (Electronic Logging Device) mandate went into effect, ELD usage merely revealed how unreasonable the 2013 Hours of Service regulations were."
Max Heine wrote, "… the unsafe operating conditions created by the hours of service rule are due primarily to the rule itself, not the device used to measure those hours." Yep!
5. Regarding alternative transportation:
You've heard about autonomous or self-driving trucks, right?
And you've heard about drones, right?
Now come "cargo bikes".
According to a December 4, 2019, article, New York City "is working with a host of parcel-delivery fleets to evaluate the use of cargo bicycles to reduce congestion and diesel emissions in Manhattan."
Be aware of these vehicles and make room for them.
6. Regarding driving in less than ideal conditions:
We learn from a site that captures historical, location-based weather data that on December 4, 2019, the low temperature in Los Angeles, California, was a mild 57°F.
So, slick conditions can be caused by rain, not just ice.
A video recorded on December 4 revealed that rainy conditions indeed preceded a big rig partially jackknifing and coming to rest hanging off the highway.
Ouch!
Please always take the appropriate steps to drive based on weather conditions.
Driving too fast for conditions can lead to disaster.
---
Meanwhile, bad winter weather prompted truck travel bans and travel restrictions across mountainous areas and the USA's northern tier following Thanksgiving, as was reported here, here, here, here, here and here.
Sometimes, the weather forecasts aren't good for truck drivers, like predictions of the "biggest snowfalls of the year".
So you need to stay informed and be prepared.
Two resources to stay informed are:
Don't violate a travel ban and risk being called out.
---
We also read that in order to be proactive regarding traffic management during "heavy snowstorms" and "extreme weather", the state of New York is going to be installing more message signs and cameras along its interstate highways.
Let's hope that helps!
7. Regarding hauling loads with a high center of gravity:
Some loads are more prone to overturning than others:
especially those with a high center of gravity and
liquid loads in high tankers.
A December 2, 2019, article reported that "A tanker with two trailers of butane rolled over on Interstate 15 in Lehi, Utah Saturday morning, Nov. 30, closing the highway for more than 10 hours and forcing the evacuation of some nearby residents."
Please always take into account the specifics of your truck's configuration — both trailers and load — when:
moving down the road; and
negotiating turns and curves.
8. Regarding bribery for referring truck and trailer repair business:
Have you ever wondered if your truck or trailer really needed to be repaired, but you got flagged by someone in law enforcement anyway?
Well, a former Tennessee Highway Patrol trooper has been indicted for "allegedly accepting payments" from three nearby repair shop owners.
More on this was written here.
The closest my husband Mike and I ever come to this was when a trucking company mechanic wanted us to bring our trailer into the shop in order to change tires because of a supposed mismatch — not due to tread depth, but because of different tread configurations or patterns!
If you encounter situations where it seems as though you're being forced to undergo unnecessary truck repairs, speak up!
9. Regarding predatory booting and towing:
The term "booting" refers to putting a device on a truck's tire that immobilizes it from being moved.
The practice has been used in numerous places — holding truckers hostage until a fee is paid — and truckers have complained.
Now, we read that the state of Colorado may be about ready to pass a prohibition against booting any truck as long as it is occupied.
Mike Matousek, who is Manager of Government Affairs for the Owner-Operator Independent Drivers Association (OOIDA), was quoted as saying, that it is criminal to boot an occupied motor vehicle for a fee of $2,000 or $3,000.
I agree and I hope that Colorado passes this statewide booting prohibition — and that other states will follow suit.
---
Separately, we read that a "Class action lawsuit accuses Chicago of predatory towing".
The article lists predatory towing that has taken place in Tennessee, Missouri and Colorado.
Mike Matousek stated, "there's no question commercial motor vehicles are targeted by unscrupulous towing operators… which includes predatory booting schemes, legally-questionable drive-away tows, and other forms of nonconsensual towing".
To help prevent having your rig booted or towed, obey any and all posted signs at locations where you plan to park
10. Regarding the EPA's error on glider kit regulations:
According to a December 5, 2019, article, an internal watchdog panel for the Environmental Protection Agency said that "the agency skirted required steps in the process of crafting a rule to repeal regulations that capped production of glider kit trucks."
According to National Service Center for Environmental Publications (NSCEP), The term 'glider kit' is used in the heavy-duty vehicle industry to describe a chassis and cab assembly that is generally produced by a vehicle manufacturer without a new engine, transmission, or rear axle."
More on the EPA/glider kit issue was written here and here.
11. Regarding an owner-operator bill in New Jersey:
The state of New Jersey has introduced legislation (S. 4204) — which is very similar to California's A.B. 5 — which "would restrict businesses' ability to use independent contractors and in effect block trucking companies from contracting with owner-operators."
The lawsuit in California is currently at the level of a federal appellate court, which is one step below the U.S. Supreme Court.
Eventually, the lawsuit could make it to the highest court of the land.
More on this was written here.
Meanwhile, a December 1, 2019, article says that California's A.B. 5 law fuels demand for driver leasing.
Hmm…
12. Regarding financial planning by year's end:
Overdrive Online has two articles about year-end financial planning: Part 1 and Part 2.
We also address on our site Before Year End: What's on Your Trucker To Do List?
13. Regarding solar power for trucks:
A November 29, 2019, article says that solar power can reduce idling and protect batteries.
Bob Doane, eNow's vice president and chief technology officer, stated that "based on the factors noted above, the rate of payback will vary from a few months to a couple of years. After the payback is reached, the savings go right to the company's bottom line and [will] for many years."
That sounds like a winner to me!
14. Regarding fuel-efficient vehicle fees:
Did you know that "Nearly half of all states impose additional fees for the registration and licensing of many fuel-efficient vehicles"?
According to a December 3, 2019, article, "The fees are intended to replace declining tax revenue for transportation purposes."
Watch what will happen in the state of New Hampshire over the proposal there.
15. Regarding truckers trying to "beat trains":
This maneuver almost always ends badly.
Such was the case when "a major train derailment [of at least 15 railcars and two engines] was caused by a truck driver attempting to beat a train across the tracks" south of Platteville, Colorado, on Wednesday, December 4, 2019.
Even though it may seem like a waste of time or big inconvenience to wait on a train, it is far better to wait in one piece than risk the multiple pains associated with a train-truck strike and derailment.
Prevent railroad crossing accidents!
16. Congratulations!
We extend our heartiest congratulations to company driver Dan Runice, who has achieved "3 million consecutive miles without a preventable accident"!
Woohoo! Way to go, Dan!
Also, please be aware that "The Commercial Vehicle Safety Alliance is accepting nominations for its 2020 International Driver Excellence Award until Dec. 13" and that the winner will receive $2,500 and other prizes.
My husband Mike and I wish you — and all professional truck drivers — safe travels and lots of money saving opportunities on the road.
---
---
Return from TDMST Weekly Round-Up: 2019.12.07 to our TDMST Weekly Round-Up Trucking Commentary or our Truck Drivers Money Saving Tips home page.
---