This is the TDMST Weekly Round-Up of news affecting professional truck drivers, written by Vicki Simons for the week ending July 18, 2020.
We welcome your comments, thoughts and feedback on the items of your choice below.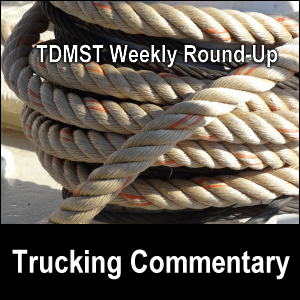 1. Regarding "emergency conditions" and HOS:
We ought not need this refresher, but I will review it anyway (with emphases added):
According to the FMCSA's website:
In either case, it stands to reason that — if one or more people is threatening the safety or transportation of a "motor carrier" — folks at either the FMCSA or DOT (or both) would be greatly concerned and actually do something genuinely helpful.
This is especially true since 18 U.S. Code §1951 covers "Interference with commerce by threats or violence" in this way:
(a)Whoever in any way or degree obstructs, delays, or affects commerce or the movement of any article or commodity in commerce, by robbery or extortion or attempts or conspires so to do, or commits or threatens physical violence to any person or property in furtherance of a plan or purpose to do anything in violation of this section shall be fined under this title or imprisoned not more than twenty years, or both.
In my opinion, it is completely unacceptable how the USDOT Agency [Explained] Why It Won't Investigate I-35 Protesters for Hazmat Violations!
Be that as it may, professional truck drivers (and their home support teams) had every right to be upset or enraged that the only guidance provided by the FMCSA — in light of all of the recent trucker-aimed violence — was to refer them to:
§395.1 Scope of rules in this part. (b)(2)
(2) Emergency conditions. In case of any emergency, a driver may complete his/her run without being in violation of the provisions of the regulations in this part, if such run reasonably could have been completed absent the emergency.
An article about this on Transportation Nation Network — Truckers Are Outraged Over FMCSA's New Guidance on What to Do If Attacked — stated:
"Out of the hundreds and hundreds of comments TNN received, we couldn't find one supporting the Agency's position."
One trucker chided: "So if I understand this correctly, after they have you stopped on a highway and you're beaten, robbed, shot or murdered, you can still continue with your delivery without violating the HOS."
It is ultra-important that you do everything in your power to protect yourself, your truck and the load you're hauling — and seek to be lawful in the process.
Other articles on this topic include:
---
Meanwhile, according to the articles listed here, the FMCSA once more extended their exemption of the Hours of Service until August 14 — but only for specific loads (which unfairly tilts the trucking landscape, in my opinion):
---
Other articles addressed different aspects of the supposedly-coming Hours of Service regulations change:
---
It is absolutely unbelievable that in the face of all of the violence that truckers have faced on the road over past weeks, that the DOT is patting itself on the back for how much money they are going to be saving taxpayers, partly due to the supposedly-coming Hours of Service regulations change!
2. Regarding protests:
Please be aware of where protests are planned and stay abreast of reports about what has happened and is happening:
3. Regarding accidents:
Accidents involving big trucks seem to be increasing again and many of them are completely preventable:
Other articles about accidents include:
---
This article highlights how a trucker can be doing everything right and yet have his/her perfect driving record besmirched by another motorist:
Elderly motorist ends gravel truck driver's 22 year accident free streak.
This is one reason why I oppose longevity bonuses that hinge on being completely accident-free.
4. Regarding recall:
A brake issue in Freighliner Cascadias has prompted Daimler to issue a recall, according to these articles:
5. Regarding autonomous trucks:
The articles about autonomous, driverless, or self-driving trucks this week include:
6. Regarding dead and heat:
Years ago, I wrote the very long article "A Hot Truck: On Summer Heat, Truck Heat and Bake Oven Conditions" and stated, "Based on what we've been able to find, there is little formal research on the subject of measuring the temperature inside large trucks, that is, how hot a hot truck can get."
Well, more information is available now, thanks to Think it's hot outside? Here's how much hotter it can get inside your truck, which includes an image showing the "Estimated Vehicle Interior: Air Temperature vs. Elapsed Time."
So when there are forecasts like this, watch out!
Scorching heatwave to hit high-volume reefer market (with forecast video).
---
Although the first article listed here does not mention the heat inside the truck, the second one does:
The second article states, "Officer Carson told CDLLife that it appears that it appeared that the truck had been running but that it had run out of fuel and the windows in the truck were up."
Our sympathy goes to the trucker's family.
Meanwhile, we read in this article — Dozens of People Discovered in Deadly Hot Semi-Trailer, Trucker and Passenger Arrested — "the inside trailer temperature was recorded at 126.1 degrees Fahrenheit."
Heat can turn deadly.
Remember that human beings are not cargo!
Never attempt to smuggle people.
Other recent articles about attempted human trafficking or smuggling attempts include:
7. Regarding economy and trucking domination:
The following articles all address some aspect of the trucking industry and the economy:
---
And the American Trucking Associations reported that trucking remains the dominant mode of freight transporation, with nearly 12 billion tons of freight moved in the USA in 2019:
I'm interested in seeing what the numbers look like for 2020.
8. Regarding electric and "zero-emissions" trucks:
One of the big topics this week regarded an agreement about the push for "zero emission" trucks and electric trucks:
If you're an owner-operator or independent trucker looking to upgrade your truck, please evaluate your purchase in light of these developments.
9. Regarding illegal and drugs:
Over and over again, I have stated that it is not worth it to try to transport illegal drugs, recent articles about which include:
---
It is not worth it to indulge in watching videos while you're supposed to be driving.
This is called "distracted driving" for a reason!
Regarding these news reports,
my first thought was, "That's it? A highway worker was killed by a trucker who 'pled guilty to charges of criminal vehicular homicide and criminal vehicular operation,' and he was sentenced to only 'four years and four months in prison'?"
That doesn't sound right to me.
---
Other truckers have tried doing a variety of illegal things:
Come on, y'all.
Love your neighbor as you love yourselves.
Do unto others as you would have them do unto you.
10. Regarding innovation and solar:
In the July 10, 2020, article "Georgia DPS Stirs Controversy by Showing Off Portable CMV Brake Testing Machine," we read:
"A Georgia Department of Public Safety (GaDPS) Facebook post showing off its new 'Portable Brake Testing Machine' for commercial motor vehicles (CMV) is getting a bit of push back."
Remember to keep your truck's brakes properly adjusted at all times.
---
This was inspiring:
Man builds solar-powered truck and travels across the country.
I have long been interested in why trailer manufacturers don't utilize all of that space on trailer roofs to harness the sun's power.
I'm glad someone came up with a great idea and implemented it.
Hopefully, there will be more inventions of this kind in the future!
11. Regarding major hiring liability:
Quite some time ago, I questioned the reason why a trucking company would deliberately hire a trucker whom they knew had a poor record.
Well, this article reveals: Exclusive: Owner knew drug history of trucker charged in deadly I-70 crash.
Can you spell "liability"?
Now, how does this affect you?
Don't go to work for trucking companies that cut corners like this.
If they cut one corner, chances are they'll cut other corners — and you could wind up being on the short end of a deal.
12. Regarding vindication:
Never mess with whistleblowing truckers who understand the need to shutdown or otherwise refuse to drive (put a truck out of service) under a "captain of the ship" policy.
We read this week — and applaud the ruling — that a Company Must Pay Trucker $190K After Firing Him for Refusing to Haul Overweight Load.
Hurray! Vindication!
13. Congratulations!
Our heartiest congratulations go to the Mississippi driver [who won a] new Cascadia in Landstar drawing.
Woohoo!
My husband Mike and I wish you — and all professional truck drivers — safe travels and lots of money saving opportunities on the road.
---
---
Return from TDMST Weekly Round-Up: 2020.07.18 to our ""TDMST Weekly Round-Up Trucking Commentary or our Truck Drivers Money Saving Tips home page.
---