This is the TDMST Weekly Round-Up of news affecting professional truck drivers, written by Vicki Simons for the week ending November 30, 2019.
We welcome your comments, thoughts and feedback on the items of your choice below.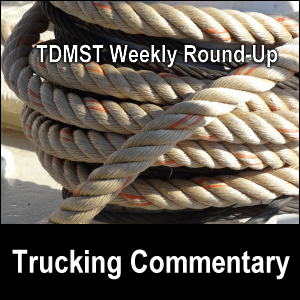 1. Regarding running OTR and regional between Thanksgiving and Christmas:
Hauling freight during the holiday season in the USA can be rewarding and frustrating at the same time.
Dispatches can be good, but the traffic can be intense and the weather daunting.
For your convenience, I refer you to a couple of articles on our site that may help you to understand what is at stake:
Please remember:
to keep up with preventive and regular maintenance on your tractor and trailer;
not to skimp on your pre- and post-trip inspections;
to always check weather conditions before you pull out; and
not to become overconfident in your ability to drive in bad weather.
I recently saw a post on Facebook about accidents that had occurred in the Lincoln, Nebraska, area due to bridges icing over.
Black ice cannot be seen and may be referred to in slang terms like "a skating rink."
Please stay safe no matter where you drive!
2. Regarding detention:
In a very interesting November 26, 2019, article about detention, the writer asks if drivers' hours really matter.
A number of factors were mentioned, including:
the ELD mandate;
arrival times;
measuring detention;
geofencing;
scoring shippers; and
when detention pay kicks in.
Again, I believe that all of a trucker's time should be paid for.
3. Regarding saving fuel:
In an article that is obviously designed to be favorable toward the technology, we read:
Vnomics Corp., a provider of onboard fuel optimization that combines real-time driver coaching with fuel efficiency insights, announced that a driver at one of its customers is saving 1,400 gallons annually by using its True Fuel technology.
If you use this technology, would you please write a product review or service review and let us know the results you have seen (whether positive or negative)?
Thanks.
4. Regarding motorist action with future repercussions for truck platoons:
A November 25, 2019, article included a video showing how the driver of a four-wheeled vehicle attempted to squeeze between two large commercial motor vehicles.
I made the following comment about this on Facebook:
Although the attempted action taken by the four-wheeler (in the article linked below) was between two big trucks going in the same direction, this kind of stunt is what has me very concerned about truck platoons (where a vehicle could attempt to squeeze between trucks in order to move right or exit).
5. Regarding trailer tracking:
An article about trailer tracking is geared for fleets but has repercussions for truckers.
A similar article is here.
Many years ago, before the advent of GPS and trailer tracking technology, my husband Mike and I drove for large trucking companies with hundreds or thousands of trailers.
Sometimes we spent a lot of time looking for trailers that
either had a specific trailer number
or were empty.
Times have changed and so has technology.
My question is: If you're driving for a company that has
both lots of trailers
and a trailer tracking system,
are you given the exact location of the trailer on the company's property in order to save you time?
Please comment below.
Thanks.
6. Regarding fuel savings:
A recent article asks, "Is slowing down your speed to save money worth it?" and references saving $10,000 per year.
With the assumptions listed, the author wrote:
What we found was that to actually drop the $10,000 in savings to the bottom line, he or she would need to drive an extra approximately 27,500 miles or 90 miles per day. Therefore, it is possible and quite doable, but the question is whether a carrier or an owner-operator views these sacrifices as worth it.
A separate article addressed how Shell is looking at the future of fuel.
Allan Rutter, freight and investment analysis head at the Texas A&M's Transportation Institute, noted that with about 30,000 trucks running the route between Atlanta and Macon every day, "Georgia is now looking at a dedicated truck lane … as a test case for autonomous truck operations."
I suppose we'll have to wait see how this works out.
7. Regarding CBD oil lawsuit:
In a nutshell, former truck driver Douglas Horn is suing a CBD oil company because he used their product — advertised as having "0.00 THC", which is the main psychoactive property in marijuana — and then tested positive for marijuana!
The legal wrangling may continue until his lawsuit is settled.
8. Regarding worker classification bills:
According to a November 26, 2019, article, we read:
The Owner-Operator Independent Drivers Association is asking its more than 160,000 members to speak out against two New Jersey bills that could negatively affect independent small-business truckers [which, if passed into law, would consider] all workers to be employees unless the hiring business demonstrates that all of [the ABC test] factors are established.
The reason why this important is that the "B factor" in the legislation "could spell the end of the leased owner-operator model in the state" of New Jersey.
Bear in mind that this situation already has implications in California.
9. Regarding Drug and Alcohol Clearinghouse:
A November 26, 2019, article reads:
The Drug and Alcohol Clearinghouse will establish a database of drivers who've failed or refused a drug test. Fleets of all sizes will be required to query the database for all new driver hires and yearly for existing drivers.
If you're an owner-operator, please read the article and perform the needed actions to stay compliant.
FWIW, I completely disagree with how this monopolistic continuity program has been set up to enrich the agency running it — at the expense of the trucking industry!
Perhaps after the program has been running for some time, someone can submit an Freedom of Information Act Request to find out how much money the government is earning from this program and where the money is going.
Just saying.
10. Regarding helpful information:
Smart-Trucking.com has recently posted several articles that may be helpful:
Two other helpful articles are:
11. Regarding driver info and data breach:
We read from a November 27, 2019, article: "A report released Monday accuses the California Department of Motor Vehicles (DMV) of selling driver data for tens of millions of dollars."
If you live in California, please take actions to protect your personally identifiable information.
I will be interested to see if the CA DMV as an entity will be the target of a class-action lawsuit because of this sale.
Separately, according to a November 27, 2019, article, there is still time to take action to protect your identity if you were affected by the UCR data breach.
12. Regarding a trucker following the wrong GPS:
How many times do I have to write it?
Don't use a "personal" GPS device to navigate your commercial motor vehicle!
One trucker did that and ended up running "afoul" of a bridge on the Bronx River Parkway.
Ouch!
Not only was there damage to the truck and cargo, but I'm sure the trucker will be held responsible for some aspect of his actions.
Another article describing the accident stated: "Since 2015, it's reported there have been more than 600 such strikes, prompting the state to invest some $25 million in technology to warn truckers and police of imminent danger."
See our articles:
13. Regarding winter preparation:
Hopefully, you've already made preparations for your truck for the winter, but in case you haven't, a November 27, 2019, article addresses the high priority of replacing "an air dryer cartridge" to avoid "problems that stem from excessive moisture in the pneumatic system."
14. Regarding truck recalls:
National Highway Traffic Safety Administration documents list four recalls that "affect more than 6,500 Western Star, Volvo and Peterbilt tractors".
If you drive one of the trucks listed in the article, please see if you need to have recall work done.
15. Regarding opportunities to give:
A November 25, 2019, article lists ways in which truckers can give to those who are in need.
Another article lists charitable acts to which truckers can donate.
Thanks for giving generously to the charity of your choice — any time of year!
My husband Mike and I wish you — and all professional truck drivers — safe travels and lots of money saving opportunities on the road.
---
---
Return from TDMST Weekly Round-Up: 2019.11.30 to our TDMST Weekly Round-Up Trucking Commentary or our Truck Drivers Money Saving Tips home page.
---