This is the TDMST Weekly Round-Up of news affecting professional truck drivers, written by Vicki Simons for the week ending August 7, 2021.
We welcome your comments, thoughts and feedback on the items of your choice below.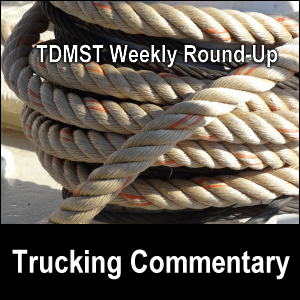 1. Regarding COVID-19 and events:
COVID-19
It is a violation of bodily autonomy for anyone to be coerced or forced to receive a medical intervention.
According to an August 6, 2021, article, between Dec. 14, 2020 and July 30, 2021, "VAERS [Vaccine Adverse Event Reporting System] data released… by the CDC showed a total of 545,338 reports of adverse events from all age groups following COVID vaccines, including 12,366 deaths and 70,105 serious injuries."
Before you receive an experimental injection into your body that has the potential to cause harm or death, please do your due diligence.
Remember this part of what is written in the Declaration of Independence:
We hold these truths to be self-evident, that all men are created equal, that they are endowed by their Creator with certain unalienable Rights, that among these are Life, Liberty and the pursuit of Happiness.–That to secure these rights, Governments are instituted among Men, deriving their just powers from the consent of the governed,
In my opinion, any company whose leadership thinks more highly of coercing employees than respecting them as individuals does not deserve them.
---
Events
I am glad to read that trucking events are now being planned.
2. Regarding bridge, roads, and mudslides:
Bridge
---
Roads
---
Mudslides
If you are planning to travel through the Glenwood Canyon in Colorado on I-70, you will need to make other plans until this situation is corrected.
3. Regarding electric vehicles, autonomous vehicles, automation, and emissions:
Electric vehicles
If you drive a Commercial Motor Vehicle that is all electric — and you used to drive one powered by diesel — we'd like to connect with you.
Please contact us through the form below.
---
Autonomous vehicles
I am totally opposed to vehicles being operated completely by machine, including those called autonomous, self-driving, or driverless, but I am including these articles to help you stay current on the topic.
---
Automation
---
Emissions
This move is made in the name of "the environment" or to combat "greenhouse gases" or so-called "climate change," so please be aware of the stakeholders, both political and financial.
4. Regarding employment, I/C, pay, economy, shortage, recruiting, and retention:
Employment
---
I/C
As of this writing, the PRO Act may be part of a larger "infrastructure" bill (or bills).
If you desire to do so, "Oppose Unconstitutional, Anti-Free Enterprise PRO Act."
---
Pay
There is much more to trucking than getting paid, but trucking income is severely behind inflation (link, link).
---
Economy
These are some of the most recent articles about the economy from the trucking industry's perspective.
---
Shortage
Articles listed below gives a clue about how trucking jobs vacated by Americans may be filled.
---
Recruiting
---
Retention
5. Regarding accident, near miss, drugs, and smuggling:
Accident
Please review these articles to gain insight on how to prevent being involved in a similar accident yourself.
---
Near miss
There will always be impatient drivers who take unnecessary risks, so please be wise in driving around them.
---
Drugs
Never, ever agree to haul illegal drugs, no matter how much you are offered.
If you believe you're the victim of a drug-hauling scam, seek the advice of a competent trucking attorney.
---
Smuggling
Never, ever agree to haul human beings like they are livestock, no matter how much of an incentive you are promised.
6. Regarding border, broker, capacity, rates, taxes, and tolls:
Border
---
Broker
---
Capacity
---
Rates
---
Taxes
---
Tolls
7. Regarding safety, regulations, conveyance, parking, truck, violence, staged, and load planning:
Safety
---
Regulations
---
Conveyance
---
Parking
Amendment X to the Constitution of the United States reads:
"The powers not delegated to the United States by the Constitution, nor prohibited by it to the States, are reserved to the States respectively, or to the people."
Truck parking is therefore a matter that should never be decided on the federal level.
---
Truck
---
Violence
---
Staged
---
Load planning
8. Regarding discrimination, distraction, health, and HOS:
Discrimination
---
Distraction
Always practice safe driving and never set yourself up for distracted driving.
Remember, as a trucker, you are being paid to safely drive a truck, not be entertained.
---
Health
---
HOS
9. Regarding technology, dash cam, drones, and ELDs:
Technology
---
Dash cam
It has never been more important to have a truck cam installed in your truck to protect yourself legally.
---
Drones
Please be aware of this technology and the implications that it has for the trucking industry.
---
ELDs
I have openly opposed mandatory ELDs in trucks, but if they can help you save money, use the technology to its utmost.
10. Regarding fuel, fuel economy, and inspections:
Fuel
---
Fuel economy
---
Inspections
Be ready for an inspection at any time and you will never be surprised.
11. Regarding intermodal, ports, Prepass, and protests:
Intermodal
---
Ports
---
Prepass
---
Protests
12. Regarding award:
Congratulations to all truckers who have been recognized and/or rewarded for their achievements or skill!
My husband Mike and I wish you — and all professional truck drivers — safe travels and lots of money saving opportunities on the road.
---
---
Return from TDMST Weekly Round-Up: 2021.08.07 to our TDMST Weekly Round-Up Trucking Commentary or our Truck Drivers Money Saving Tips home page.
---