We have often used baby wipes (yes, the kind that mothers use on their babies) to remove dirt from our hands and even our faces during the course of a day while working in trucking.
As shown in the photo here, we have also used them for cleaning up after preparing a meal in-truck.
In March 2010, when Mike was cleaning out a trailer, he ended up with a huge dirt smudge on his face that he knew nothing about until Vicki told him.
He used a wet wipe to clean his face and hands.
We prefer to use
a thicker baby wipe,
a store brand wipe (to avoid the cost associated with a name brand),
refills that come in sealed plastic pouches (to avoid the cost of having to buy the dispenser box over and over again), and
rectangular wipes that pull up in a folded fashion from a rectangular box instead of the spiral-wound ones that come up through a central hole in the lid.
Homemade Versions
You can find recipes online to make your own baby wipes. They usually call for
a strong paper towel (cut the roll in half),
baby oil,
baby bath soap and
possibly lotion.
A number of years before Vicki joined Mike in the truck full-time in 2009, she tried making home made baby wipes.
Over time, however, the roll molded and she had to throw away the whole batch. It was both disappointing and wasteful.
Even if it was the case that the home made baby wipes molded because they had been stored in a sealed container in the trunk of our car, we have stored commercially prepared baby wipes in the trunk for a lot longer period of time with no such problems.
Alternatives
When Vicki was growing up (long before commercial wipes became popular), her Mom would take along a wet washcloth and bar of soap in a plastic bag when her family went picnicking or fishing. It was her homemade version of a wet wipe.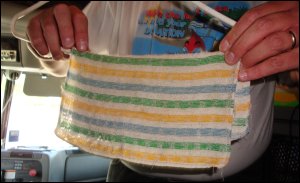 This option may not work for drivers, especially those who are away from home for long periods of time and don't have ready access to laundry facilities.
Then again, if you have a plastic or vinyl-coated hanger, you can easily hang up a wet washcloth to dry from somewhere in your truck.
We have often placed a wet dishcloth on a hanger, and hooked it over the edge of the upper berth to dry.
Hand Washing On the Road
We indicate on our hand cleaner page that it is always appropriate to wash one's hands with soap under running water.
Using a baby wipe or wet wipe cannot substitute for this.
Some drivers may wait to wash their hands when they use the bathroom at a truck stop.
There are times when we have washed in the "small kitchen" we created in our truck. Other drivers may have different set-ups.
In late 2009, we saw a driver clean out his coffee cup by perching a 5-gallon water container/dispenser on the drive axles of his tractor.
The device had a spigot that allowed water to flow out without being held open by hand.
Drivers with custom sleepers may have sinks and running water right in their trucks.
Our Favorite Style of Dispenser for Baby Wipes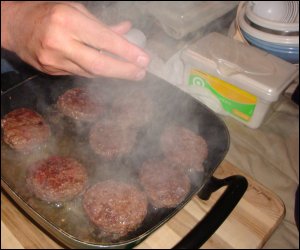 When Mike drove regionally, our favorite wipe was an unscented store brand.
We like using the type of dispenser box that opens the lid at just the touch of a finger (like the one shown here).
In cases where the tips of our fingers need cleaning, we could open the box with a knuckle.
The box of baby wipes was always close by when we cooked in our truck.
Here, it was really close by when Mike cooked hamburgers.
Cleaning Jobs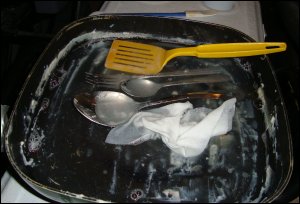 Since our professional driving experience has only ever been as company drivers, none of the trucks we have driven ever had a built-in sink.
Instead, we developed a system of cleaning the meal preparation devices we cooked in, the dishes we ate from, and the utensils we ate with in the truck using baby wipes, a washcloth or dishcloth.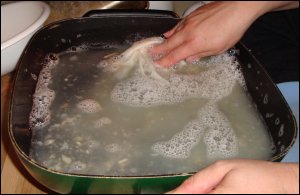 Here, you will see photos of wipes we used in the truck for cleaning.
We used our electric skillet as a mini sink and a baby wipe as a disposable dishcloth.
Vicki is cleaning the electric skillet after all of the other dishes used for that meal have been washed.
Truck Interior Cleaning
When we have spilled or tracked something into the truck from outside that would ordinarily require a wet mop to clean up, we have used a wet wipe to clean it up — especially if it was small.
If the spill or dirt was powdery, we used either a whisk broom or vacuum cleaner to clean it up. (Spills in crevices required the use of a small crevice tool on the end of an attached hose.)
Personal Hygiene
In addition to using disposable wipes for cleaning dishes, we also found them to be perfect for attending to personal hygiene needs between showers and quick cleaning jobs on our portable toilet.
Wet wipes are constructed to be disposable. For that reason, we found that it was never an issue to throw one away after use.
---

Money saving tip: You may find wipes on sale in different size quantities at the store. Generally, the larger the number of wipes, the less expensive they are individually. However, you need to bear in mind the storage space that you have in your truck, home or storage unit.
If you choose to use a name brand wipe, don't forget to look for money saving coupons to use at the store. You can combine savings by buying them on sale.
One of our favorite money saving strategies of all times is using our cash back bonus rewards toward purchases. Some credit cards allow you to get extra cash back based on the type of purchase you make.
Depending on your own personal usage, wet wipes can turn out to be an expensive cleaning solution. Some experimentation may lead you to a suitable alternative.
For example, Vicki has used a sturdy half-sheet paper towel as a dishcloth in the truck. When she was done with it, she squeezed it out and threw it away. Whether using a paper towel or wet wipe, disposing of it prevented microscopic organisms from hanging around on cloth dishcloths inside the truck.
Thicker wipes are not suitable for disposal down a toilet, so please save yourself the problems that could result from flushing them. Never throw a wipe down a portable toilet.
Sometimes, if an open container of wipes has dried out, it can be "re-hydrated" with excess liquid from another batch. If you find that this is happening a lot (like if you don't use wipes often), consider creating a type of seal to keep the moisture in.
If a baby wipes dispenser lid does not seal well, you can put a piece of plastic wrap over the top before putting the lid on. If the lid itself does not provide enough of a seal, perhaps you can use a large rubber band to hold it in place to help prevent evaporation.
---
Return from On Using Baby Wipes or Wet Wipes for Cleaning In Your Truck to our Packing List page or our Truck Drivers Money Saving Tips home page.
---