Wiktionary defines "grooming" (in the sense we are using it here) as "Care for one's personal appearance, hygiene, and clothing."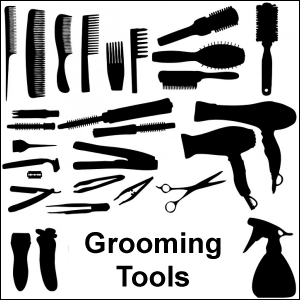 As much as we may not like to think about it, some people have a real tendency to judge other people by the way they look.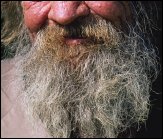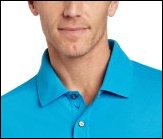 Compare for instance these two men by their appearance.
They may be equally qualified, but which man would you say cares more about his personal appearance, hygiene or clothing based on what you can see?
On October 29, 2010, our "Truck Drivers Money Saving Tip" tweet was: "Maintaining a professional appearance can have an indirect positive impact on your success in trucking."
When you care about your personal appearance, you give an indication that you care about your truck and the freight you haul in it.
There may not be a direct correlation, but it is really all about your customers' viewpoint that matters.
Trucking Company Requirements
Some trucking companies care so much about the appearance of their drivers that they make it a requirement.
Averitt Express used to state on the Professionalism tab of their Flatbed page,
"Averitt recruits and retains the most professional and responsive drivers in the industry. Our drivers are always in uniform and clean-cut."(1)
Two of the trucking companies for which Mike has driven have had uniforms:
one provided uniform shirts (the program of which they eventually withdrew); and
the other provided both uniform shirts and uniform pants.
Although someone could be a bit lacking in personal hygiene and still wear a uniform, we believe it is best to be clean and nicely dressed.
So, below, we are sharing with you our personal list of grooming tools and personal hygiene items that we have packed with us on the road in our trucks at one time or another.
Grooming and Hygiene Item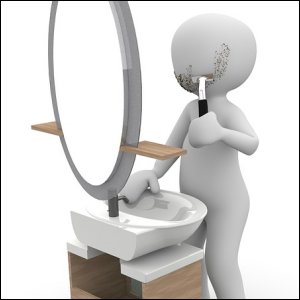 In our opinion, these are the must-have shower materials are stored in a shave bag to have in a home or truck stop shower:
Soap in a soap dish;
Shaver or razor with face soap or shaving cream;
Deodorant;
Fragrance of choice;
Exfoliating pad;
Shampoo;
Hair conditioner;
Hairbrush; and
Small blow dryer (which can also be used to remove water vapor from a mirror on the wall).
We have also carried in a zippered pouch Vicki's personal effects, including:
her feminine hygiene products, and
in resealable plastic bags:

cotton balls and
cotton swabs.
We have a small implements box that contains these grooming tools:
small curved scissors (for cutting fingernails and toenails),
two sets of nail clippers (large and small),
one or more emery boards (for filing fingernails),
a small spindle of dental floss,
a dental pick (a non-disposable toothpick),
tweezers and
a blackhead remover.
Shower Bag, Shave Bag, Toiletrie Bag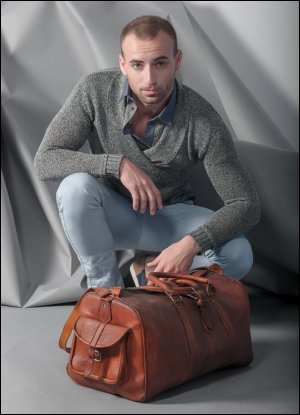 Whenever we go into a truckstop shower, we carry the shave bag, zippered pouch and implements box in a larger shower bag or gym bag which has a main compartment and several outer pockets.
In our experience, a shower bag should be fairly rugged, water resistant, and able to comfortably hold all the items you need when showering and changing into clean clothes.
Depending on your preference, your choice of a shower bag can be a knapsack, backpack or duffle bag.
Besides what we have already mentioned, we have carried some other grooming tools and accessories in our shower bags:
a Swedish file for smoothing feet,
a nose hair trimmer,
a back brush (which can be used in the shower or for dry body brushing),
body powder,
a spray bottle containing rubbing alcohol and a clean handkerchief (for cleaning our glasses and sunglasses),
air freshener (which can be made with essential oils),
a small eyeglasses repair kit, and
a small hand-held mirror.
If he had a beard or mustache, Mike would use a beard trimmer.
To save money, some guys buy a beard trimmer and nose hair trimmer together.
Along with the items we take for cleaning and grooming, we also pack our clean clothes when we get ready to go into a truckstop for a shower.
Most of the time, we kept our toothbrushes and toothpaste in the truck to brush after meals.
Haircutting Implements and Kit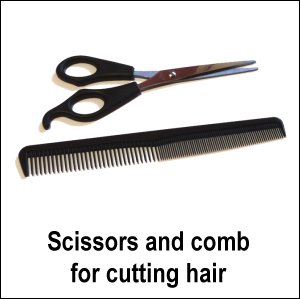 As is described on this page, when we have needed to use it, we have taken our haircutting kit with us into a truck stop shower.
Vicki cuts both her hair and Mike's.
Vicki has found it easier to use various grooming tools to cut Mike's hair if he is sitting in a moveable seat that she can walk around.
Not all truck stops have moveable seats.
Whenever she cuts her own hair, Vicki stands in front of a mirror.
She is able to see what she is cutting with scissors on the top and sides but cuts the back "by feel."
There have been times when she has nicked herself, but it is not often
After doing the cuts, we always sweep up the hair clippings with a small whisk broom and dust pan.
Conclusion
Those are our lists of grooming tools and personal hygiene items.
We believe that looking professional not only helps you personally, but helps your company and helps you retain more business.
Bear in mind, however, that even a great appearance cannot overcome a bad attitude.
---

Money saving tip: Depending on what you're looking for, you can often find grooming tools at discount department stores or even dollar stores.
Although tools available at discount stores may not be manufactured under brand names you recognize, they may work just as well.
You may wish to examine customer reviews before you buy — if they are available.
You may be able to buy some personal hygiene items with your truckstop rewards program points.
If you use a cash back rewards credit card, you may be able to use your points for the larger ticket items that you cannot buy at a truck stop.
By staying as clean as possible on the job, you can help prevent some kinds of infections. If an infection develops (such as on your feet), treat it right away so it won't worsen. If the infection persists or worsens, make sure you visit a qualified health care professional to prevent it from becoming serious.
Some folks may like to pack a pair of flip-flop type shower shoes to wear in a truck stop shower (to keep from picking up anything that may not have been cleaned up on the floor or in the bottom of the shower).
Most major truck stop chains provide you with a free shower with the purchase of a minimum number of gallons of fuel.
Although it may be impossible to take a shower every day on the road, you can aim to take one every other day.
You can also freshen up (perhaps with baby wipes) between showers and change your inside clothes daily.
Some forms of grooming may need to be done periodically (such as cutting your hair once a month).
Others may need to be done more regularly (such as putting foot powder on your feet daily).
Choose the schedule that works best for you, especially if you have to pay to have any services done (such as cutting your hair).
With a bit of practice, you or your home support team can learn to cut your hair and save money.
Guys who wish to cut their own hair may choose to use a specific length of guide comb on an electric razor to trim the back and sides of their head and finish the top by hand with scissors.
The tricky parts are trimming the neckline, trimming around the ears and blending in the lengths all over the head.
Use care whenever using any grooming tool, especially if you are using an electrical appliance around water. Prevent electric shocks.
Follow the manufacturer's guidance regarding use and maintenance (such as oiling hair clippers) to ensure the longest possible life.
If one is offered, carefully consider whether or not you should purchase an extended warranty on any tool or appliance.
Although part of a tool may not work as it originally did (such as the soft side of an on/off button on a razor wearing through to the metal underneath), the tool itself may continue working.
Evaluate for yourself whether or not a tool should continue to be used or be replaced.
Keep moisture from accumulating inside sealable bags with items that need to stay dry.
---
Return from Grooming Tools and Personal Hygiene Items for Pro Truckers to our Packing List page or our Truck Drivers Money Saving Tips home page.
---
Reference
1. www.averittexpress.com/public/services/truckload/flatbed.jsp (no longer online)