Whether you call it hot chocolate or hot cocoa, you can enjoy this delicious beverage right in your truck.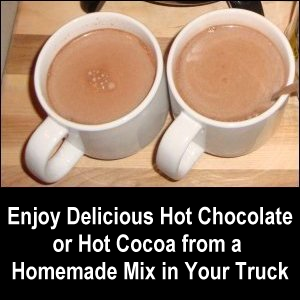 Furthermore, if you use a homemade mix, you'll be saving money in the process.
When Vicki was growing up, her mom occasionally made this beverage the old fashioned way, by slowly heating up milk on the stove and gingerly adding the other ingredients, blending them until they were smooth.
Now, we don't have to worry about scorching the milk because we buy it in dry skim milk form.
Combined with just a couple of other ingredients, we can delight our palates as soon as the mix dissolves in hot water.
Please note that this page has been updated.
Hot Chocolate Recipes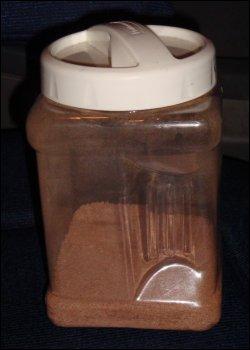 You can find a simple hot
chocolate recipe on many frugal websites.
Vicki experimented with some and came up with her own blend — which she calls "Simons Country Cocoa" — and which admittedly might be a little sweet or strong on the cocoa
compared to others.
She likes being able to make the beverage using as much of the mix as she desires.
Simons Country Cocoa
3 cups dry skim milk powder
2 cups granulated white sugar
3/4 cup cocoa powder
She mixes these ingredients together and stores it in an airtight container (like the one shown here).
If you don't want to make this mix yourself, perhaps your home support team can make it for you.
Any time we were ready, particularly on a cold winter day,
we cranked up the hot pot via inverter, heated up some water, added the cocoa mix, and enjoyed the rich flavor of this delicious beverage.
If you have a coffee maker in your truck, you can also just run water through it to heat it up.
Take the Mix With You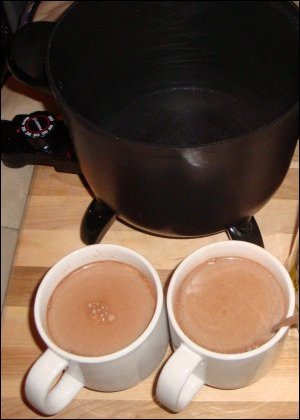 If you are in the mood to have hot cocoa with a meal at a restaurant, you might be able to save money by taking in your own mix and ordering just hot water (assuming the restaurant doesn't charge extra for this).
The restaurant will surely charge you for a cup of cocoa if they supply the mix (which usually comes in a packet and may contain preservatives).
Many times, caffeine from tea, sodas or chocolate has kept Vicki awake at night.
But she never has a problem falling asleep after drinking a cup of her own cocoa, even right before bedtime, perhaps because of the "warm milk."
Mike says he prefers Vicki's hot chocolate recipe best of all and that it beats commercially prepared blends "hands down."
Mike enjoys making his cocoa "strong," which he cannot get from
a commercially produced packet unless he uses at least two.
Pictured here is the hot pot in which we have heated up water for hot chocolate in our trucks, and two cups in which the mix has been prepared into a beverage.
Update
Since writing this page, we have become increasingly aware of the dangers of consuming sugar.
However, we have never found a natural sweetener (such as stevia) that tastes the same as sugar in this recipe.
We never — and we repeat, never — recommend using artificial sweeteners in place of sugar.
Just saying.
---

Money saving tip: By using a homemade hot chocolate recipe, you can save money, make your
beverage as strong as you like, and avoid all of the preservatives that are present in commercially prepared mixes.
Note that dry skim milk is not as nourishing as whole milk, so please use your own best judgment when it comes to your own ingredients.
---

Return from Enjoy Delicious Hot Chocolate or Hot Cocoa from a Homemade Mix in Your Truck to our Food and Recipes page or our Truck Drivers Money Saving Tips home page.
---