This is the TDMST Weekly Round-Up of news affecting professional truck drivers, written by Vicki Simons for the week ending June 1, 2019.
We welcome your comments, thoughts and feedback on the items of your choice below.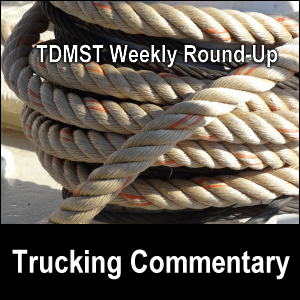 1. Regarding historic flooding:
There has been a lot of flooding this year, including in Arkansas, where "transportation officials [had to] shut down two bridges".
More about the two Arkansas bridges being closed is here.
A May 29, 2019, article stated that, "Missouri police … ticketed a truck driver who they say ignored signs and found himself stuck in high flood waters."(a)
The citation was "failure to obey traffic signs."
As I mentioned in a Facebook Live broadcast this past Wednesday night, don't ignore or go around barricades that block off roads that are closed due to flooding.
2. Regarding CVSA's International Roadcheck:
A number of articles have been published recently to help drivers get through International Roadcheck 2019 successfully, including:
Don't be caught swirling your money down the drain because of a preventable problem with your truck.
3. Regarding working around electricity:
A May 29, 2019, article stated, "Illinois police say that a man was electrocuted while attempting to lift a power line so that an oversized load could pass under it this week."
Whenever you're working on or around electricity, take proper safety precautions so that you don't get zapped.
4. Regarding autonomous trucks:
"Trucking industry stakeholders can now comment on two pre-rules from the U.S. Department of Transportation regarding the regulatory path to integrating autonomous trucks and cars onto public roads," stated a May 30, 2019, article.
More on this topic was written here.(c)
Meanwhile, we read on May 29 that "Daimler Trucks is promising once again to the lead the way in development and deployment of autonomous trucks."
If you feel strongly about this topic, please comment while the window of opportunity is open.
5. Regarding ATA on truck tolls:
While I'm glad that the American Trucking Associations (ATA) is fighting the truck-only tolls in Rhode Island, they have (in my opinion) mistakenly stated that "tolls are not taxes".(d)
Recall that a February 1, 2019, article on Tandem Thoughts by Land Line Magazine stated,
"Tolls ARE taxes. … Tolls. Are. Taxes."
While I would like to see Rhode Island's truck-only tolls eliminated, the legal argument has to be sound and unshakeable.
6. Regarding the 30-minute break requirement in the Hours of Service regulation:
A May 29, 2019, article stated that, "a working version of the annual Transportation Department funding bill released by the House's Appropriations Committee last week would bar the DOT from eliminating the 30-minute break requirement of current hours regs."
More about this was written here.
If you feel strongly that the upcoming Hours of Service regulation needs to remove the 30-minute rest break, then please contact your Congressional representative and voice your opinion.
Meanwhile the FMCSA "remains hopeful" that the new HOS rule will be published next week.
So time is of the essence.
7. Regarding defective engine lawsuit settlement:
According to a May 30, 2019, article, "Navistar agrees to pay truck owners $135 million in defective engine suit" and "Class members can choose up to $2,500 per truck or $10,000 rebate off new truck, or seek up to $15,000 per truck in out of pocket damages caused by alleged defect".
More about this was written here(e) and here.
If you were affected by this, please consult the article(s) for how you may be compensated.
8. Regarding temporary fuel tax?
A May 24, 2019, article stated, "Rep. Earl Blumenauer, D-Ore., recently introduced a bill that would increase the federal fuel tax by 25 cents and eventually replace it with something else. While some applaud the move, other groups like the Owner-Operator Independent Drivers Association are cautious of what it could mean later."(f)
If safeguards aren't put in place, those "temporary" taxes may end up becoming permanent!
9. Regarding cargo securement:
"The Commercial Vehicle Safety Alliance is seeking input on how to hold shippers accountable for improperly secured loads" — at least sealed loads in cargo van and intermodal containers — according to a May 24, 2019, article.(g)
This sounds like a commonsense move to me.
If you feel strongly about this, please share your opinion with those in positions of authority to do something about it..
10. Ouch! That Hurt!
According to a May 28, 2019, article, "A truck driver has been fined Can$30,000 ($22,230 USD) for attempting to smuggle cheese into Canada."
Review the laws before you haul certain commodities into and within states and countries to make sure you stay legal.
11. Regarding used truck prices:
ACT Research reported that "Used truck prices [have increased] 6% month-over-month".
That's good news for those who want to sell!
If you're looking to sell your truck, you may wish to review the guest post on our site: Tips for Selling Your Truck and Saving Money.
My husband Mike and I wish you — and all professional truck drivers — safe travels and lots of money saving opportunities on the road.
---
---
Return from TDMST Weekly Round-Up: 2019.06.01 to our TDMST Weekly Round-Up Trucking Commentary or our Truck Drivers Money Saving Tips home page.
---
Reference:
a. cdllife.com/2019/trucker-ticketed-for-driving-into-flood-waters-getting-stuck/ (no longer online)
b. www.landlinemag.com/Story.aspx?StoryID=74309 (no longer online)
c. www.landlinemag.com/Story.aspx?StoryID=74299 (no longer online)
d. www.landlinemag.com/Story.aspx?StoryID=74291 (no longer online)
e. www.landlinemag.com/Story.aspx?StoryID=74306 (no longer online)
f. www.landlinemag.com/Story.aspx?StoryID=74288 (no longer online)
g. www.landlinemag.com/Story.aspx?StoryID=74290 (no longer online)