This is the TDMST Weekly Round-Up of news affecting professional truck drivers, written by Vicki Simons for the week ending January 8, 2022.
We welcome your comments, thoughts and feedback on the items of your choice below.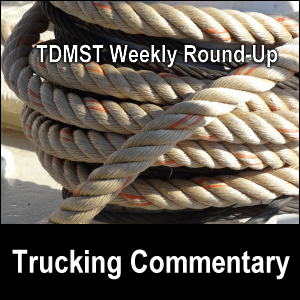 1. Regarding weather, accidents, near misses, and death:
Weather
There has been a lot of nasty weather in the USA this winter season! In some cases, snow has fallen so fast that state DOTs:
either have not been able to keep up with plowing;
or may have made matters worse, depending on what they have applied to the roads.
Please remember that no load is worth your life! No trucking company can force you to drive when it is not safe to do so. Please refer to these pages on our website:
We also appreciate the kindheartedness of some truckers who helped out other motorists during the 16-hour backup along I-95 (and possibly other backups). Before you offer to provide food out of the trailer you are hauling, please get permission from your trucking company. Chances may be good that your company will be compassionate and say "yes," but it is better to know upfront. You don't want to give away possibly thousands of dollars' worth of food and then be financially responsible for it because you didn't ask first. Meanwhile, here are some of the most recent articles about weather — non-chronologically ordered — from trucking publications:
---
Accidents
Please learn from these accidents.
---
Near misses
Some of these near misses are incredibly close!
VIDEO: Drifting trucker makes a wild save on Chesapeake Bay BridgeIn my opinion, the trucker who made the "wild save" was traveling too fast for conditions.Furthermore, it didn't look like he had his trailer under control until the last split-second (if, indeed, he had it under control at all).Bridges always tend to freeze before other nearby road surfaces freeze.

When there is snow and ice on the road, slow down!

VIDEO: Impatient pickup driver's pass almost ends in head-on collisionKudos to the trucker whose dash cam captured this video, for moving over a little to let this impatient motorist around.The "moving over" maneuver was only possible because there was enough shoulder to drive onto, there was nothing on the shoulder (like a broken down vehicle), and the maneuver was done in the daylight without any precipitation falling.
VIDEO: Trucker doesn't even hesitate crossing a waterfallThe person who wrote the article described this trucker's actions as "serious bravery," but one should never attempt to drive through standing or flowing water like this!
---
Death
Our condolences go to the family of this trucker. However, I believe that his trucking company completely failed him with incomplete or the wrong kind of equipment! Because the overhead photo shows that there was
– no headerboard on the trailer and
– no headache rack on the tractor,
this trucker's death was totally preventable! We wrote about a similar situation when a four-wheeler cut off a truck, forcing the trucker to slam on his brakes, which led to shifted lumber and a damaged headerboard. Flatbedders, don't put your life at risk; always drive and haul the right kind of equipment for your load!
2. Regarding 2021, top 5, top 10, COVID-19, and health:
2021
---
Top 5
---
Top 10
---
COVID-19
I've covered this in past trucking commentaries, but to summarize: God gave each of us an immune system that can range from being weak to being strong — and it can be made stronger through a variety things including food and supplements. The microorganism S@RS-C0V-2 that is responsible for C0V!D-19 has never been (at least as of this writing) isolated and purified. If that is the case, how are people testing for it? They're pretending through faulty tests or faulty testing. And how can there be a proper v@xxine for it? There can't. Plus, millions of people around the world have experienced adverse events or have died as a result of taking one or more jabs, the ones in the USA having been documented here. In my opinion, if your trucking company does not respect you enough to let you make your own health choices without coercion or harassment, then it is time to go to one who will respect you!
---
Health
3. Regarding autonomous vehicles, electric vehicles, emissions, and fuel:
Autonomous vehicles
I most definitely oppose the use of autonomous, driverless, or self-driving trucks on the roads with the motoring public, but share these articles as a courtesy to help you stay current with the topic. Before I list the articles, here's an honest question: There are some states that have "snow removal" laws, so how can the roof of a trailer be cleared in those states, if no driver is around to clear it?
---
Electric vehicles
This issue came up almost a year ago when the state of Texas underwent a deep freeze and a lot of things that had been powered by electricity stopped working. So, in the case of the people who were stuck in traffic on impassible roads (see articles under "Weather" above), if they had been driving electric vehicles, how would they be able to move them after all that time without a way to recharge them? If you have an opinion on this, please comment through the form below. Thanks.
---
Emissions
---
Fuel
4. Regarding economy, supply chain, ports, and chassis:
Economy
---
Supply chain
---
Ports
I'm laughing because one of the articles below gave these statistics — as if the people running the two west coast ports have no idea what happened!
Not since June 2020 have Long Beach and Los Angeles experienced such low numbers. Not only was that figure down by 9.6 percent compared to November 2020, but it also represents a 10.1-percent drop from October 2021.
Another article below gave the reason why the west coast ports' numbers have dropped: Motivated people have gone to other ports, such as those on the east coast! Innovative people don't put up with bad service, but rather find another service provider or come up with their own solution!
---
Chassis
This is another issue, in my opinion, of people creating a solution. OK, if there aren't enough chassis to handle the freight coming out of the ports, simply build more!
5. Regarding roads, prevention, and technology:
Roads
---
Prevention
Lyndon, Vt., triples fines for striking covered bridgesQuote: "'It is my understanding that there is a commercial vehicle version of the mapping apps, yet that comes with a cost. Instead, they choose to use the passenger car version of the mapping directions which leads them over the bridge,' [Lyndonville Police Chief Jack Harris] told Land Line."'In each instance that I have investigated the operators have said they were following the directions from their mapping app. I am unaware of why these licensed commercial drivers are no longer paying attention to signs, yet as you can see, with 11 commercial vehicles completely disregarding the signs it is an issue.'"Blindly trusting in any GPS or map app — or ignoring clearly posted road signs — is dangerous and should never be done.

One can end up in a preventable low clearance accident.

Obtain and learn how to use an up-to-date truckers' atlas.
---
Technology
A question came to my mind regarding people stuck in a 16-hour backup during a snowstorm: Are drones capable of flying in snow? If you know the answer to this, please comment through the form below.
6. Regarding employment, pay, recruiting, training, and retention:
Employment
I don't believe that the high numbers of people are quitting their jobs voluntarily, but are being pushed out of the workforce due to medical tyr@anny.
---
Pay
I am listing these articles as a courtesy, not a recommendation for employment.
---
Recruiting
Feds fast-tracking controversial trucker pilot programQuote: "The Federal Motor Carrier Safety Administration has asked the Office of Management and Budget for review and emergency approval of a three-year apprenticeship program to allow carriers to employ drivers between the ages of 18 and 21 for hauling freight across state lines, according to a request filed Thursday."Based on insurance rates for young drivers, I believe that this is a very dangerous move.In my opinion, the only reason why "the feds" want to bring in young people is that young adults may not understand enough about trucking and are willing to put up with lower wages and less-than-desirable regulations.
---
Training
---
Retention
7. Regarding politics, issues, and grading:
Politics
---
Issues
---
Grading
8. Regarding lawsuit and sentencing:
Lawsuit
---
Sentencing
The Colorado Governor wanted for the drama to be over, but he only complicated things!
9. Regarding trucker and clearinghouse:
Trucker
---
Clearinghouse
10. Regarding IFTA, rates, tolls, and theft:
IFTA
---
Rates
---
Tolls
---
Theft
11. Regarding parking, recalls, and safety:
Parking
---
Recall
---
Safety
12. Regarding awards:
We recognize inspiring truckers who go above and beyond their professional duties to help others.
We also congratulate to all truckers who have been recognized for their achievements.
My husband Mike and I wish you — and all professional truck drivers — safe travels and lots of money saving opportunities on the road.
---
---
Return from TDMST Weekly Round-Up: 2022.01.08 to our TDMST Weekly Round-Up Trucking Commentary or our Truck Drivers Money Saving Tips home page.
---