When it comes to cooking potatoes, the vegetables are pretty versatile.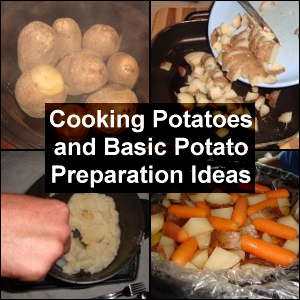 We will cover some basic potato preparation ideas to satisfy even the heartiest appetite of truck drivers.
This tuber vegetable can come in different forms (canned, frozen, instant, raw) and ready to be cooked in numerous ways (baked, boiled, fried, microwaved, roasted) — with or without additional ingredients.
Of course, you can get your fill of them at most truck stop buffets, but we are talking about cooking them right in your truck.
For owner operators and professional drivers who do not slip seat, it is entirely feasible to carry a 5- or 10-pound bag in your truck and prepare them in a timely manner.
In a truck, we have kept ours in a cool, dark place.
Depending on the situation with your truck, that may or may not be under the bunk.
Cook Them in a Crock Pot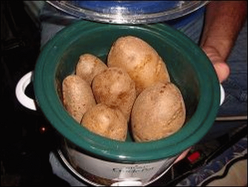 One of our favorite meal preparations is cooking potatoes in a crock pot.
Requiring only clean vegetables, the appliance and a power source (we use a battery-connected inverter), we place the veggies in the pot and turn the appliance on "low" for as long as it takes to cook them through.
The crock pot shown here is fairly small.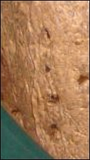 To prevent built-up steam from causing them to burst, we poke a fork through the skins on 6 sides (4 sides, top and bottom) as vents.
See the fork holes in the potato here.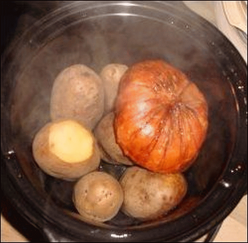 If we figure we'd like to eat a little sooner, we will set the appliance to cook at a higher temperature (i.e., on "high") to shorten the cooking cycle.
Note: The cooking cycle will vary based on the number of watts your appliance has.
Sometimes, we will cook these veggies whole with a chunk of ham on top (as shown).
When the cooking cycle is over, the finished product can be split and topped with butter, sour cream, salt or whatever we choose.
To us, these are indistinguishable from the oven-cooked or microwave-cooked version.
Homemade Hash Browns
If we have any leftovers, they are perfect for pan frying in an electric skillet with a little oil. (We prefer to use extra virgin olive oil or coconut oil.)
Of course, you can buy already-formed hash browns, but they are more expensive than the kind you cook yourself.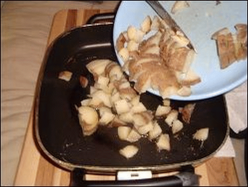 Pictured here, leftover cooked potatoes that have been diced (with skins on) are put in an electric skill with a bit of oil for homemade hash browns.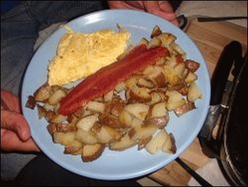 Here, the vegetable has been re-cooked and served with turkey bacon and scrambled eggs for breakfast.
Yum!
Here, the leftover veggie is prepared with polska kielbasa Polish sausage as part of a cooked in-truck breakfast.
Meat and Potatoes
As shown above, we have cooked this vegetable in a crock pot with a piece of ham on top.
One of our all-time favorite meals is crock pot-cooked pot roast, especially when it has been seasoned with beef bouillon or base (without toxic ingredients) and vegetables added.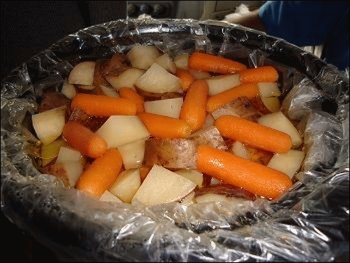 This picture shows our featured veggie and baby carrots on top of beef (either stew meat or pot roast) and onions in a crock pot with a slow cooker liner.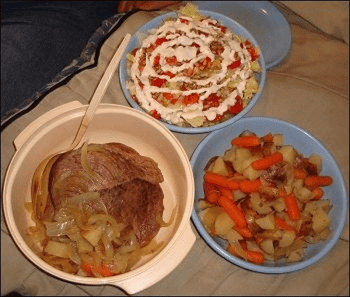 This is a full dinner of pot roast, hot vegetables and salad — all of it prepared in a semi truck.
Instant from Flake
Sometimes when time is short or we haven't thought about dinner early enough to cook them whole in a crock pot, we whip up a batch of "instant potatoes" in our hot pot.
We can fix as much or as little as we like, depending on the amount of ingredients we have.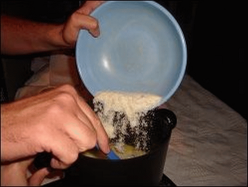 Many stores sell not only name brand flakes but usually also their own store brand (for usually, but not always, a lower unit price).
Most preparations call for a certain amount of water, salt, butter, cold milk, and flakes. We always prepare milk on the road from dry skim milk powder.
We prefer to use real butter instead of margarine.
(We have never used Butter Buds in this preparation, but that is also a possibility.)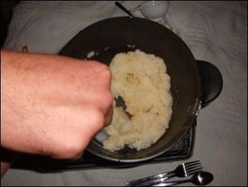 We feel that it is important to have at least some shelf-stable products like potato flakes packed in one's truck in case something beyond the driver's ability takes place (like being stranded in a snowstorm in the winter away from a supply of food).
For what it's worth, Mike has never been able to distinguish a discernible difference between the taste of name brand versus store brand instant flakes.
They are all the same to him.
Vicki has noted that some boxes of flakes come with the flakes in an interior bag while others are loose in the box.
She prefers her flakes bagged inside the box until they can be transferred to a more permanent container such as an airtight Rubbermaid food container.
Other Recipes Call for Other Meal Preparations
Certain recipes call for different cooking methods.
For example, the truly baked or roasted version call for either some kind of oven (like a toaster oven, Jet Stream oven or other convection oven).
We wonder how a Max Burton Stove to Go would treat baked or roasted veggies since it is a closed cooking unit.
Does most if not all of the steam stay inside and make the food soggy? Would it matter with this vegetable?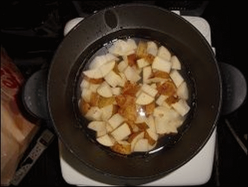 Here, the diced raw veggie is shown in water in a hot pot, ready for boiling.
A Funny Story About Terminology
We have to share a funny story with you that didn't seem so funny at the time.
Perhaps you can identify with the fact that when a man and woman get married, they have to make certain adjustments. The way one person interprets a phrase may be completely different from the way the other person does.
So, during the first year of our marriage, Vicki asked Mike one morning before he left for work what he wanted for dinner that night. He mentioned the entree and "mashed potatoes."
Well, when Vicki was growing up, a mashed variety of this vegetable was one that had been cooked whole either in the oven or microwave, served on a plate, sliced open, topped with butter or sour cream and salt, and then "mashed" with a fork.
When Mike came home and Vicki popped a whole cooked tuber on his plate, he looked at it and looked at it. Vicki asked what was wrong. Mike stated again what he had requested. Vicki said that's what she served. She proceeded to slice, top and then "mash" hers.
"See, I'm 'mashing' my potato," she said calmly.
"This isn't mashed potatoes," Mike said.
"Well, how do you fix them?" she asked.
He explained that you peel, dice and boil the vegetable, put them in a mixer with a little of the water they were boiled with, milk, butter and salt.
"Oh!" Vicki exclaimed, "You mean 'whipped potatoes'!"
Mike heaved a huge sigh bordering on a groan. To him, Vicki's version was just a baked one.
The next time Mike wanted his version, Vicki dug out their mixer. When Mike had set the mixer on level number 6 — which clearly read "whip" — she said with a smile:
"See? You're 'whipping' them!"
He just shook his head.
It's a continual running joke in our family.
"Mashed," Mike mutters.
"Whipped," Vicki replies.
And on and on it goes.
Truck Stop Terminology
For what it's worth, when you order this vegetable at a truck stop restaurant, you're likely to hear the waitress ask if you want "baked, fried or mashed" as your choice.
In the photos below, you will see plates of truck stop restaurant food with this vegetable fixed in a variety of ways.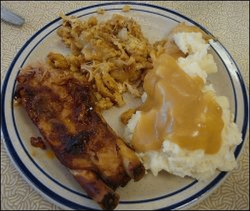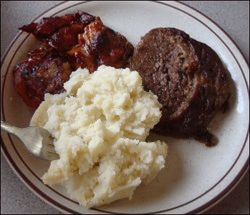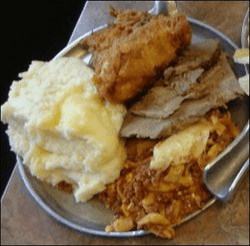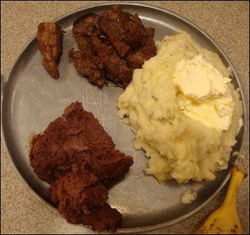 Nutrition Information
Let's take a look at the nutrition aspects, courtesy of NutritionData.com (all items' data from a 100 gram portion size):
Item
Calories
Fat (g)
Carbohydrate (g)
Protein (g)
Link
Potatoes, white, flesh and skin, baked
nutritiondata.self.com/facts/vegetables-and-vegetable-products/2551/2 (no longer online)
94
0
21
2
Potatoes, Russet, flesh and skin, baked
nutritiondata.self.com/facts/vegetables-and-vegetable-products/2550/2 (no longer online)
97
0
21
3
Potatoes, red, flesh and skin, baked
nutritiondata.self.com/facts/vegetables-and-vegetable-products/2552/2 (no longer online)
89
0
20
2
Wendy's side order: Hot Stuffed Baked Potato, Broccoli & Cheese
nutritiondata.self.com/facts/foods-from-wendys/6818/2 (no longer online)
117
3
20
2
Now, let's examine that Wendy's item a little closer.
At the 100 gram amount, an additional 20 calories doesn't seem like a lot.
But if you go to the link and see how many calories are in "1 order" (411 grams), that's where the rubber meets the road:
480 calories,
14 grams fat,
81 grams carbohydrates and
9 grams protein.
Do you really want to have a 480-calorie vegetable?
With The Skin Or Not
There is controversy regarding whether or not the skins provide nutritional content.
You may wish to read the information for yourself. (1)(2)
We leave it up to your preference as to whether or not to eat the skins.
We personally prefer, where possible, to clean, cook and eat the skins.
Why throw any of it away when it's all good for you?
Other Recipes
For both white and sweet varieties, we have boiled them and microwaved them.
If you look at RecipeSource.com, you will see all kinds of potato recipes in an amazingly large assortment, ranging from using the vegetable in: bake, biscuits, bisque, breads, cakes, candy, casseroles, chips, chowder, cookies, croquettes, doughnuts, dumplings, frittata, fritters, gnocchi, gratin, hash, hash browns, ice cream, knish, loaf, muffins, nachos, pancakes, patties, pies, pierogies, pizza, pudding, puffs, quiche, rolls, salads (hot and cold), scallop, scones, slices, stir fry, skins, soup, stew, and wedges.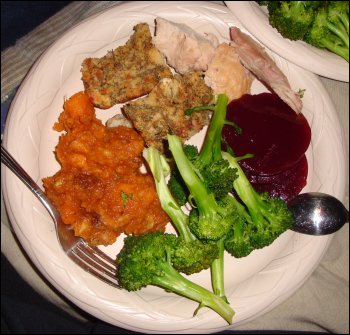 Using the "advanced search" function on the ingredient-based recipe search engine on RecipePuppy.com, Vicki was able to find a number of potato recipes using only a few ingredients.
We have found that this vegetable goes well with beef and pork and the sweet variety goes well with poultry (particularly turkey).
You may wish to read about our Sweet Potato Casserole preparation, which is pictured here as part of our in-truck Thanksgiving dinner.
Statistics
Statistics about this vegetable have been compiled by
United States Potato Board (3) and
the Northern Plains Potato Growers Association(4).
We were surprised that potatoes are the world's 4th food staple after wheat, corn and rice.
What's Missing?
Up until now, we have purposely left off this page French fries, curly fries and potato chips.
Why?
They're typically deep fried;
They aren't as nutritious as other kinds of potatoes you can cook; and
Depending on the cooking equipment you have in your truck, it may be a little difficult to get these foods crispy.
Let's do a little investigation and comparison between curly fries and a regular baked potato with butter.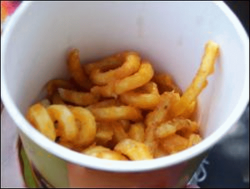 vs.
Arby's side order: Curly Fries
Arby's side order: Curly Fries
Arby's side order: Curly Fries
Arby's side order: Baked Potato, Plain
Arby's condiment: Butter
Serving Size
1 small order
(106 g)
1 medium order
(128 g)
1 large order
(199 g)
1 order
(184 g)
1 order
(14 g)
Calories
336
405
630
200
100
Total Fat
18 g
22 g
34 g
0 g
11 g
Total Carbohydrate
39 g
47 g
73 g
46 g
0 g
Protein
4 g
5 g
8 g
4 g
0 g
Source
nutritiondata.self.com/facts/foods-from-arbys/7886/2 (no longer online)
nutritiondata.self.com/facts/foods-from-arbys/7886/2 (no longer online)
nutritiondata.self.com/facts/foods-from-arbys/7886/2 (no longer online)
nutritiondata.self.com/facts/foods-from-arbys/7890/2 (no longer online)
nutritiondata.self.com/facts/foods-from-arbys/7891/2 (no longer online)
The numbers speak for themselves, do they not?
We encourage you to consume a healthy and balanced diet.
---

Money saving tip: We wondered if there were consumers like us who tend to shop for potatoes based at least somewhat on price.
The price will vary, as do other commodities, based on the time of year and supply and demand.
Look at how versatile this vegetable is.
When it comes to cooking them, they will fit just about any meal: breakfast, lunch or dinner.
There are so many ways to fix them, flavor them, etc.
One of Mike's favorite preparations is baked and topped with butter, sour cream and bacon bits.
The bacon bits are a luxury item that we almost never buy and which don't add much nutritional value.
When Mike is cooking potatoes to mash them, he likes to add roasted garlic or garlic powder.
The amount should lightly season the vegetables, not overwhelm them.
As you can see from the nutrition information on this page, you can really sabotage a weight-loss diet by eating this vegetable cooked in certain ways, particularly deep fried.
It's not the tuber itself but what you cook it in or add to it that counts.
When we shop for white, russet or red potatoes, we aim to spend as little as possible — around $0.20 per pound if we can find that price.
---
Return from Cooking Potatoes and Basic Potato Preparation Ideas to our Food and Recipes page or our Truck Drivers Money Saving Tips home page.
---
References:
1. wisegeek.com/what-is-the-nutritional-value-of-the-potato-skins.htm
2. potatoes.com/Nutrition.cfm
3. uspotatoes.com/downloads/USPBPricingWhitePaper.pdf (no longer online)
4. nppga.org/consumers/funfacts.php