Truckers who live in their vehicles may wonder if truck organization can help them get their work done more efficiently, thereby saving time and money.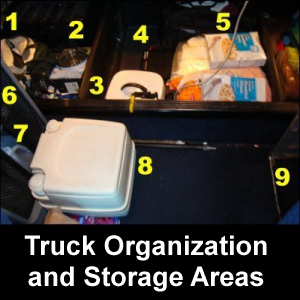 The answer is: Yes!
So we will describe on this page:
factors to bear in mind when truck drivers look to organize various parts of their trucks,
the types of organization tools that we have personally used in our trucks over the years,
organizing tools that we wish had been available (or that we had known about) when we were trucking cross-country or regionally,
some organizing tools that may help owner-operators who do their own truck maintenance, and
some inexpensive ways (and even homemade ones) to organize your truck.
Factors to Bear in Mind For Truck Organization
By virtue of the fact that you have places in your truck with different access points and different space configurations, you may choose to use them in different ways.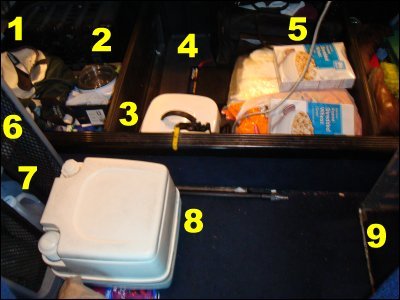 Shown here is a photo that we took inside one of the trucks we drove, showing our truck organization in different storage areas in the sleeper.
Items stored include:
(1) shower bag and laundry supplies,
(2) crock pot,
(3) electric skillet,
(4) inverter,
(5) foodstuffs,
(6) microwave oven,
(7) gallons of drinking water,
(8) portable toilet, and
(9) place to store ice chest.
Items 1-5 are stored under the lower bunk, which is in its up position in the photo.
Lights under the bunk may or may not be placed in the best places so you can arrange or rearrange your truck organization there.
Restraints: Elasticized Mesh vs. Doors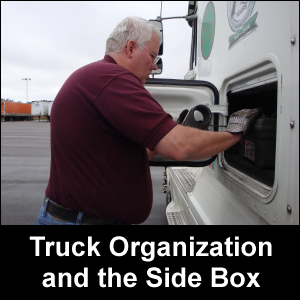 In this truck, the restraint across the front of the cabinet behind the portable toilet (and other cabinets) is elasticized mesh.
In some newer trucks, the cabinets actually have doors.
Truck organization inside these cabinets can be hindered depending on which kind of restraint is in place.
To the right of the partition to the right of our foodstuffs is the area where we stored our truck items (oil, coolant, windshield washer fluid, broom head, toolbox, tie-downs, etc.).
These items are easily accessed through the side box door on the driver's side, shown here.
It's the ultimate in truck organization to have all of these items in one location so you know where they are when you need them.
Storing Tall or Long Thin Items
We stored the handle from our commercial-style broom on the floor in the crevice between the lower bunk and cabinet on the left.
For example, here are two parts to a broom — a broom head and a broom handle — both listed from Amazon.com, with which we have an affiliate relationship.
In some newer trucks, there is no crevice here, so a broom handle (or a whole standard broom) can be stored
standing up behind the passenger seat next to the outside wall of the cab and
held in place inside the Velcro® strap that holds the sleeper berth curtain back on that side.
Another storage place for a broom is on the back of your cab.
Depending on how it is secured, a broom stored on the back of a cab may fall out due to the bumps of the road or potentially be stolen if it is not locked into place.
So let the driver beware.
Prevent Potential Problems
One truck organization tip is to prevent potential problems.
We used plastic bins (like the one shown, which are designed to hold items under beds) under the lower bunk.
We did not use the bins' lids to cover them, but rather marked the lids of canned food to see at a glance what the foods were.
Marking the canned food lids prevented a lot of "hunt and seek" for the foods we wanted to eat.
Before you buy one of these storage bins, make sure to measure the height, width and depth of your truck's under-bunk storage space to make sure it will fit.
In a newer truck Mike drove, we stored our gallons of water in a long shallow plastic bin in the cabinet behind the portable toilet, just in case one container leaked (which is a definite possibility if thinner-walled jugs are used).
We placed felt pads under the bin to assist with sliding it in and out of the storage space.
Store "Like" Things Together (Most of the Time)
Most of the time, it's best to store "like" things together in your truck, but there are obvious exceptions.
For example, you don't want to store your clean and dirty clothes together.
When you set up your truck organization, you'll want to bear this in mind.
To summarize, here are some types of packing list items that you may use in your truck, for which you will need to arrange storage in or on your 18-wheel tractor trailer:
long skinny items (brooms, load locks);
small items in or on your flat surfaces in your sleeper (clock, hand purifier, medications);
medium-sized items in or on your flat surfaces (plates, bowls, eating/cooking utensils);
large items (TV, laptop computer, ice chest, meal preparation items);
foodstuffs (boxed, bagged, canned, freeze dried);
clothing and laundry supplies;
trucking paperwork and books (logbook, bills of lading, truckers atlas, Truckers Friend);
personal paperwork (receipts, invoices, statements);
truck maintenance and security items (wheel chocks, oil, windshield washer fluid, coolant); and
tools and equipment (hammer, screwdrivers, wrenches, etc.).
Truck Organization Products We Have Used
What follows is a list of the items we have used in-truck, grouped (if applicable) by the truck organization products we used.
We have also listed identical or similar products from Amazon.com, with whom we have an affiliate relationship.
Small Items
The easiest way we have found to keep small items stored in or on flat surfaces in our truck sleeper is to group them in a "mini crate" like the ones shown here.
We got to the point where one mini crate was so helpful that we put two of them together. (Eventually, we put 4 mini-crates together.)
We highly recommend this truck organization tool, the square edges of which allow for maximum storage room.
They can even hold CDs and DVDs.
We found so many other uses for them.
They have been designed to fit well on top of or beside each other.
To hold them together, we used a wire tie.
Although they can be stacked vertically with the open side to the side, we recommend that for in-truck use, always keep the open side up.
Dishes
We stored our dishes in one of the truck cabinets and braced them inside the cabinet so that they wouldn't rattle in transit and wouldn't shift during turns.
We also devised a "shelf" out of a good-sized cutting board that could be angled into the cabinet where we stored our dishes, but fit level and inside the cabinet lips (one on either side) so that it wouldn't come out while the truck moved.
Cooking and Eating Utensils
Except for very large cooking utensils, we stored all of our other utensils in another truck organization tool, a plastic see-through flip-top lidded box.
We stored our electric cooking appliances (when they weren't being used for cooking) under the truck's bunk.
To keep the lids from rattling, we would place a dry paper towel or wash cloth between the appliance and lid.
If needed, a very large rubber band can be stretched from handle to handle over the top of a lid to keep it from rattling.
If you use a television in the cabinet, make sure that it is braced or lashed down well.
Some trucks have built in straps to assist you with this.
Foodstuffs
In photos above, you'll see boxes of cereal under the bunk.
After a number of times of opening and closing the bottom bunk, we learned to store most of our lightweight and bagged foods (cereals, pasta, etc.) in a vertical cabinet above the dishes so that they wouldn't crush.
We stored canned and heavier foods under the bunk in the large, flat bins (like one shown above).
If you store items in a cabinet, make sure that there is some kind of restraint to prevent shifting during transit.
Your careful truck organization will be in vain if your stuff falls out of the cabinets.
Electronics
We always kept our electronics equipment (laptops and cell phones) away from foodstuffs and water.
They could be stored in the cabinet above the driver's head while the driver is not driving.
Otherwise, they could be put on the bottom bunk while driving.
Paperwork
For trucking paperwork, Mike eventually decided to use an aluminum forms holder after he went through several 3-ring binders (even sturdy ones).
For personal paperwork like receipts, we used an expandable file, like the one shown here.
We also used a hanging file box similar to the one shown here.
Before you get one of these, you will need to determine if you need for it to be watertight or lockable.
Medium Sized Items
As there never seemed to be enough storage space in the truck to suit our needs, we went about trying to "create" our own truck organization space.
This included trying to hang organizers (like the one shown here) from the bottom of the top bunk.
Observe that the clasp at the top may work well inside a compartment that has a built-in closet rod.
But if you want to hang this in your sleeper beneath the top bunk (as we did), you may find it a trick to accomplish.
We ended up
running an elastic stretch cord (bungee cord or tie-down) in loop-de-loop fashion through the Velcro® fastener at the top and
hanging the hooks of the stretch cord over the top of the sides of the top bunk (which was in the "down" position).
We experimented with different kinds of truck organization products in the sleeper, similar to the one shown here.
None worked exceptionally well for our purposes.
We also rejected other organizers based on their design.
For a time, we used a zippered hanging organizer to store clothes in a truck cabinet, which we were able to fit it over the built-in closet rod, but
the item was too long for the cabinet and
the zippered cover became a nuisance.
There are shoe organizers, both zippered and open, that can work in truck cabinets, but we urge you to first check the length and the dimensions.
They may be too narrow to serve for general storage in your truck.
Clothes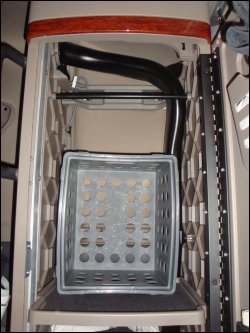 The photo here shows a rectangular plastic crate that we used in the cabinet behind the driver's seat for organizing Mike's clothes (on top) and Vicki's clothes (inside).
Note the black closet rod extending across the width of the cabinet.
This works well for drivers who have a lot of hanging clothes.
It could not be removed to give us more space to work with.
The large black pipe in the back was part of the ventilation system, to pump air into the top bunk area of the sleeper.
In using this cabinet (in a Freightliner Cascadia), we were able to place a considerable amount of folded clothing.
In the course of our truck organization, we rotated clothing so that recently washed clothes were on the bottom.
We also organized smaller items (like underwear and rolled up socks) so that they wouldn't shift.
Ice Chest
We stored our ice chest either under a built-in truck cabinet or on the lower bunk but lashed to the sleeper vent (so it wouldn't tip over and spill ice water all over the bed).
Inside the ice chest, we experimented with a number of containers to:
hold eggs (to keep them from cracking) and
other perishable foods (to keep them from getting water logged).
Read more about our food storage methods.
Truck Organization Tools We Wish We'd Had
For a while, we used a seat back organizer that we had purchased in a truck stop.
Although it was made of denim (a stiff and sturdy material) — and it had a big pocket at the bottom to hold our truckers atlas — it was never reinforced enough to keep the atlas from bending and flopping out on the floor.
In our opinions, the design was both inferior and frustrating!
The design of the seat back organizer shown here allows an atlas to be inserted in the top and extend for what looks like the whole length of the product.
If you get one of these, be aware that if you are a tall trucker, you may not be able to put your seat all the way back because the stuff in your organizer may bump the wall of the sleeper cabinets behind.
Also, make sure that if you use a large motor carriers atlas that it will fit down in the large map book pocket.
Truck Organization for Tools, Primarily for Owner-Operators
There are at least four products that can be used to organize and transport tools:
a roll-up tool organizer (ideal for a small number of tools);
a tool bucket organizer (to store a large number of tools in an upright position, which is not generally the case under a truck bunk unless the bucket is short enough);
a portable tool box (for a moderate number of tools); and
an in-truck permanently installed tool box (for owner-operators who do their own truck maintenance).
If you decide to get a bucket organizer, check to see if the bucket is included or if you will have to supply your own.
A 5-gallon bucket will likely be too tall to fit under the bunk.
Also, a 5-gallon bucket organizer may be too long on a 3-gallon bucket.
There are different sizes and styles of portable tool boxes, including all metal and mostly plastic.
If you decide to get a portable tool box, determine if you will need one that is watertight.
A driver can easily ruin power tools when they are stored in a non-watertight tool box that gets wet.
There are also truck organization tools that allow drivers (especially owner-operators who do their own truck maintenance) to store a lot of tools with easy access from the side box door.
If you look to install one of these, make sure that you have the depth in your truck for the length of the storage drawers.
Long drawers may require removing a partition from under your bunk (or cutting a hole in it).
Before you remove the partition or cut a hole in it, make sure that you have sufficient support for your bunk.
Inexpensive and Homemade Truck Organization Tools
You can use cardboard boxes for storage, but make sure that they are sturdy enough to hold up under your intended applications.
For example, if you have a bunch of canned foods (especially if they are canned in glass jars), the boxes may bend or buckle under the weight when you carry them.
Also, cardboard will lose its integrity when it gets wet.
The least amount of moisture from any source can cause a cardboard box to go limp.
Milk crates (or rectangular plastic crates like the gray one shown above) can be used for truck organization as long as the targeted areas are large enough to hold them.
Measure the dimensions in the places you want to organize, such as in your cabinets.
Also make sure bins won't keep the bottom bunk from closing completely.
One alternative is to store a milk crate in front of the passenger seat, assuming you have no passenger riding with you and that you have no leaks from your truck's dash.
We have repurposed a number of different items over the years, such as a $1 shower caddy for use on the side of the upper bunk to hold eyeglasses during sleep.
You may find as we did that items for use in a house do not necessarily work in a truck, but some can be adjusted.
---

Money saving tip: Your personal truck organization will depend upon what you take with you on the road, your truck's configuration/design and your own personal preferences.
Don't be afraid to "build a better mousetrap" that suits you better than something currently on the market (or even what we've described above).
Much like we describe on our record keeping page, if you stay organized, you won't waste time looking for something you know you have with you.
A modest investment of time spent in truck organization — initial and ongoing — can pay you indirect dividends in time saved later on.
Feel free to use our packing lists (personal, job and food) as a guide to help you determine what to pack.
As part of your truck organization, endeavor to store your personal supplies such as your wallet and keys in the same place before you go to sleep.
Panic can set in if you don't set a routine of where to put these items and then you can't find them when you need them.
Don't organize your truck such that you will strain yourself in removing items from an awkward position.
For example, if you have a large bin containing canned foods under your bunk and you have to move to a new truck, move smaller quantities at a time.
We found that having a good supply of double-bagged grocery bags in the truck worked very well when moving out of the last regional truck that Mike drove.
---
Return from Truck Organization in Your 18-Wheel Tractor Trailer for Savings to our Packing List page or our Truck Drivers Money Saving Tips home page.
---