This is the TDMST Weekly Round-Up of news affecting professional truck drivers, written by Vicki Simons for the week ending December 21, 2019.
We welcome your comments, thoughts and feedback on the items of your choice below.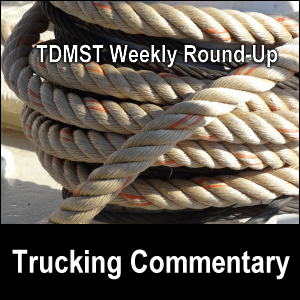 1. Regarding Drug and Alcohol Clearinghouse:
A December 18, 2019, article stated:
As the implementation of the Federal Motor Carrier Safety Administration's (FMCSA) Commercial Driver's License (CDL) Drug and Alcohol Clearinghouse nears, experts with the Owner Operator Independent Drivers Association (OOIDA) are providing numerous resources to answer the most frequently asked questions.
One of those resources is a video by OOIDA's Amber Schweer covering the sign-up process, more info about which was written here.
According to a December 20, 2019, article:
The U.S. Federal Motor Carrier Safety Administration has written to about 10,000 Canadian and 4,000 Mexican motor carriers, reminding them of the impending implementation of the Drug and Alcohol Clearinghouse program, the agency said late Thursday.
The article further states: "On January 6, 2020, mandatory use of the Clearinghouse to report and seek information about driver drug and alcohol program violations goes into effect."
Another article from DAT addressed what carriers need to do about the Drug and Alcohol Clearinghouse.
2. Regarding autonomous trucks:
A December 18, 2019, article said that a fuel economy study conducted by autonomous truck developer TuSimple showed that when in self-driving mode, their technology "cuts fuel consumption of heavy-duty trucks by at least 10%".
Another article reported the same information about fuel efficiency of autonomous trucks.
Wait and see if this isn't another reason why trucking companies want to replace human drivers with machines.
Meanwhile, a December 20, 2019, article states that by using certain coaching capabilities, a local trucker "raised his fuel efficiency score to 99.99% during the first eight months of this year".
In hard numbers, 1,400 gallons of fuel were saved, reducing fuel costs by more than $4,000.
And this can be done annually!
If this trucker did it, why can't others?
---
Meanwhile, it was reported:
California has announced that it is now allowing companies to operate autonomous vehicles on public roads even without a safety driver on board. This means passenger vehicles, take-out food, and grocery deliveries are about to go fully robotic.
Another article about this was written and stated, "A vehicle without a safety driver must adhere to more stringent requirements".
s29755.pcdn.co/news/california-to-approve-delivery-pilot-%E2%80%94-with-our-without-a-safety-driver (no longer online)
Hmm…
3. Regarding trucking company shut downs:
Last week, the huge news about a trucking company shut down was Celadon.
This week, it was G.D.S. Express.
According to a December 19, 2019, article, "With Christmas just days away, Akron, Ohio-based carrier G.D.S. Express closed abruptly Tuesday, Dec. 17. The fleet shut off fuel cards for drivers still on the road Wednesday, Dec. 18…"
While at least one GDS driver put personally-paid-for fuel in the truck, not all truckers can do that.
This article said that a receiver generously "provided [a trucker with] enough cash for fuel to get him back home to Missouri."
Also, this article quotes Dale Watkins, manager of OOIDA's Business Services Department, as advising "drivers in this situation to do their best to do what the company asks for you to do with the truck and to document everything."
Other articles about the GDS Express shut down were written here, here, here, and here.
Articles about these trucking company closures list entities that can help truckers who have been displaced.
Donald Broughton, a trucking-focused analyst and managing partner of Broughton Capital, was quoted as documenting trucking company closures as follows:
310 during all of 2018; and
640 during 2019 by September (not even the whole year).
This news makes me wonder what is really going on.
4. Regarding load security over holidays:
We are reminded by a bulletin issued by SensiGuard Supply Chain Intelligence Center that "The winter holiday shipping season has historically been one of the most dangerous times for cargo theft".
The article lists "Notable thefts over holidays 2014-18", with loads valued from $100,000 to $4 million.
Ouch!
Take proper precautions to secure your tractor, your trailer, and the cargo loaded on it (if there is any).
To help prevent the theft of an entire trailer, you may wish to invest in either a standard king pin lock or a heavy duty Enforcer king pin lock.
To help prevent access to cargo inside a trailer, some truckers use:
a bar lock (that is locked in place over the bars closest together on both trailer doors) and/or
a shielded padlock (which is shown on our self storage page).
5. Regarding driver turnover:
According to a number of articles this week, driver turnover is at its highest rate for some time:
From TheTrucker.com:
The turnover rate at large truckload fleets jumped nine points, the largest quarterly increase since the second quarter of 2016, to an annualized rate of 96%.
From TruckersNews:
Both large and small fleet saw an increase in driver turnover during the third quarter (July, August, and September) of this year, according to figures released Thursday, Dec. 19, by the American Trucking Associations.
From TruckingInfo.com:
The annualized turnover rate at both large and small truckload carriers climbed in the third quarter, according to the American Trucking Associations' Quarterly Employment Report.
From CCDigital.com:
That's the biggest quarterly jump in the large fleet turnover rate since the second quarter of 2016 and the highest turnover has been since the second quarter last year.
In your opinion, what is the top reason for truckers leaving jobs either to go to another trucking company or to leave the trucking industry altogether?
Some options are:
Too many regulations in the industry in general;
Too many restrictions personally;
Pay is too low for the time spent or skills required;
Too little respect;
Too little home time;
Accident/injury on the job; or
Other?
Please reply below.
6. Regarding "me first" mentality:
A December 18, 2019, article addresses roundabouts but zeros in on the "me first" attitude of certain drivers.
Remember: just because you have the right of way does not necessarily mean that it is safe to drive.
Sometimes, practicing a little patience can pay huge dividends in preventing truck accidents.
7. Regarding trucking being the deadliest job in the USA:
According to a December 18, 2019, article, "A December 17 report from the U.S. Bureau of Labor Statistics examined data from 2018 to confirm that 'truck driver' topped their list of the five deadliest jobs."
Other articles about this topic were written here and here.
Please drive safely.
8. Regarding trucker scams and hacking:
"The Wisconsin Better Business Bureau is warning truck drivers to keep an eye out for scam letters arriving via postal mail that claim their U.S. Department of Transportation number is 'past due'," according to a December 19, 2019, article.
It pays to keep good records and reminders of which numbers, permits, licenses, etc., are due when and actually paid.
---
According to a December 20, 2019, article, "The Federal Trade Commission (FTC) announced that it has filed suit against a fuel card company for alleged deceptive practices and hidden fees that they say cost truckers millions of dollars."
If you have a FleetCor or "Fuelman" card, you may want to read the article.
More about this was written here and here.
---
A December 18, 2019, article described how B-H Transfer Company, based out of Macon, Georgia — "was locked out of its main TMS system and the keys to get back in were going to cost some serious Bitcoin."
The article addresses cloud-based software, good sound password management, and that "Local malware protection isn't a set-it-and-forget-it solution."
Still, I can't help feeling nervous about autonomous trucks being attractive for hackers.
Just saying.
9. Regarding weather conditions:
High winds in southern California have been responsible for knocking over:
"several tractor-trailers… about 50 miles east of Los Angeles";
one truck on "the northbound 15 Freeway near Fontana" and
another truck "on the 210 Freeway near Rancho Cucamonga".
Winds were reported by the National Weather Service of between 55 and 70 miles per hour.
When you drive in areas that are prone to high winds, gauge whether or not it is more prudent to just wait for the winds to pass.
And be especially careful if you're deadheading in windy areas.
---
A massive pileup of "as many as 30 vehicles — including 20 tractor-trailers" occurred in the early afternoon of December 18, 2019, with at least two people having been confirmed as dead and dozens more being injured.
The article stated that "Snow squalls… made travel treacherous…"
Another article described this as a "chain-reaction crash".
Just because roads are open does not mean that it is safe to drive (or pass other vehicles).
Before you pull out, please check the weather forecast and road conditions for the area where you intend to drive.
One resource for the latter is United States Road Conditions.
If traveling will be treacherous, it is more prudent to remain parked until travel conditions improve.
During the holiday season, a record 115 million Americans are forecast to travel, so please be careful.
Sometimes, the FMCSA issues an emergency declaration if there is severe weather in a region.
Remember that no load is worth your life.
10. Regarding United States-Mexico-Canada Agreement:
A trade deal known as USMCA was passed by the U.S. House by 385-41 and was hailed by the American Trucking Associations (ATA), according to a December 19, 2019, article.
The article further stated:
Democrats for years have charged that NAFTA led to massive losses of high-paying manufacturing jobs in the U.S. as companies moved production to low-wage Mexico. Trump distinguished himself from free-trade Republicans in the presidential primary with his NAFTA-bashing rhetoric, and his administration got Canada and Mexico to negotiate a rewrite.
A December 19, 2019, article stated:
"The newly written USMCA trade rules that are set to replace NAFTA will cost automakers $3 billion in added U.S. tariffs for cars and parts that do not meet higher regional content requirements over the next decade."
More on the new North American trade pact was written here.
Supposedly, OOIDA applauds the trucking provisions of the USMCA.
It must be remembered that the United States of America is a sovereign nation and needs to remain so.
11. Regarding trucking statistics:
An article about a "nuclear verdict" — in which a jury award penalties exceeding $10 million — stated:
"A California jury awarded a Bakersfield family involved in an August 2017 crash with a trucking company more than $70.5 million in damages on Dec. 19, 2019."
The trucker was reported to be "operating with a suspended commercial driver's license and had been involved in 14 previous crashes" — which makes me wonder how in the world he got hired or even retained his CDL in the first place — a sentiment also stated by the legal team representing the family.
---
A December 19, 2019, article stated:
"Along the U.S.-Mexico border, trucks carried 72% of all freight, moving loads valued at $38.2 billion in October 2019, compared to $39.4 billion during the same period in 2018, a decline of almost 3%."
So, thank you, truckers, for all of your hard work all year long!
12. Regarding holiday merchandise returns:
A December 21, 2019, article states:
"Americans [have been forecast to] return up to $41.6 billion in online holiday merchandise this year";
"Compounding retail's dilemma is that consumers, already conditioned to expect deliveries without directly paying for them, now demand the same entitlement for returns."
Will this further undervalue shipping services (including paying truckers for their work)?
13. Congratulations!
We congratulate the October honorees whom OOIDA recognized for their truck driving excellence through their Safe Driving Award program.
The article states how OOIDA's Safe Driving Award Program is designed and who is eligible to qualify.
The honorees listed had accrued years of "safe, crash-free driving while operating a commercial vehicle" ranging from 7 to 47.
Great work, everyone!
My husband Mike and I wish you — and all professional truck drivers — safe travels and lots of money saving opportunities on the road.
---
---
Return from TDMST Weekly Round-Up: 2019.12.21 to our TDMST Weekly Round-Up Trucking Commentary or our Truck Drivers Money Saving Tips home page.
---