This is the TDMST Weekly Round-Up of news affecting professional truck drivers, written by Vicki Simons for the week ending November 20, 2021.
We welcome your comments, thoughts and feedback on the items of your choice below.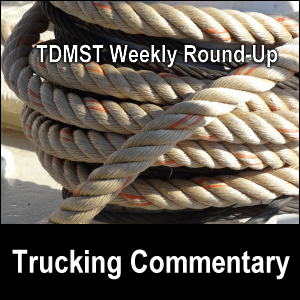 1. Regarding Thanksgiving, holidays, theft, hacking, and violence:
Thanksgiving
Since my husband Mike and I have taken multiple Thanksgiving trips on the road as truckers, we understand what truckers on the road at this time of year are going through.
If you cannot be at home, please touch base with your home support team members sometime on Thanksgiving Day.
One option, which allows users to both hear and see each other, is the video conferencing Zoom cloud meeting app, which is available for both Android and iOS devices.
Some truck stop restaurants may offer Thanksgiving meals at a greatly increased price compared to standard meals, while other restaurants may give truckers a free Thanksgiving meal upon presentation of a CDL.
With advanced planning and the right set-up, you can enjoy a lovely Thanksgiving dinner right in your truck.
If you have a battery-connected inverter or APU in your truck, a crock pot or slow cooker, and a hot pot, you can create a meal complete with cooked turkey, sweet potato casserole, and the works.
Since you're already skilled as a trucker in making on-time pick-ups and deliveries, planning a fancier-than-usual meal in-truck — where everything comes together at the right time — should be fairly easy!
If your company offers — and you plan to earn — holiday pay for driving through some part of the Thanksgiving holiday, make sure you understand and abide by all of their written and unwritten rules.
If you have any questions, ask your driver manager for details.
Once again, we are offering our Thanksgiving Prayer on behalf of truckers.
Meanwhile, here are some of the most recent articles about Thanksgiving regarding the trucking industry.
---
Holidays
Numerous retailers have expanded or changed their special "discount days" ahead of the typical "Black Friday" shopping season.
Be that as it may, please be award that people's excitement regarding the Thanksgiving, Christmas, and New Year's holidays may affect you as a trucker — especially if they were "prevented" from observing it last year.
Please be especially attentive to not allowing holiday excitement to distract you from your job of moving freight safely from one place to another.
As a professional truck driver, I know you'll do a great job!
---
Theft
Please take all precautions to prevent cargo theft whenever and wherever you travel — especially if you drop your trailer somewhere.
Park in secure, well-lit places; lock up your tractor and trailer; and don't "advertise" what you have onboard.
---
Hacking
---
Violence
I have read that there was a complete acquittal of all charges and that metropolitan areas should brace for violence.
2. Regarding COVID-19:
As of the date when I am writing this, a particular circuit court has cracked down on the Biden mandated vaxxines.
Regardless, please protect your health.
One way to do this is to refuse to take into your body toxic or poisonous substances.
3. Regarding AB5, legal, drugs, smuggling, and vindication:
AB5
I am praying for true justice to be done in this matter.
People should be allowed to work as independent contractors if they want, without interference from government tyrants who want to control every aspect of our lives.
---
Legal
---
Drugs
Never ever agree to haul illegal drugs, no matter how big of a bribe has been put before you!
---
Smuggling
Never ever agree to haul people like cattle or cargo — or contraband — no matter how big of an incentive you might have been offered!
---
Vindication
When truckers stage a "showdown" regarding truck maintenance or other matters related to Hours of Service, they deserve to be vindicated.
And I'm glad that this trucker was vindicated!
4. Regarding accidents: general, bridge, canal, intersection, passing, river, routing, sun; near accident; animal strikes; fatalities; and low clearance:
A lot of accidents took place this week — and I haven't even linked to all of them below!
At least a couple of accidents listed below make me wonder what led up to them.
For example, based on my research each week, I seem to be seeing more articles about truckers driving off overpasses and bridges for no discernible reason.
Is it possible that toxic substances injected into people's bodies — either up their noses or in their arms — is responsible?
For your convenience, I have categorized these accidents by type.
Please stay on your guard as a trucker.
Accidents: General
---
Accidents: Bridge
---
Accidents: Canal
---
Accident: Intersection
This accident involved a big truck trying (unsuccessfully) to navigate an intersection with an unusual median set-up.
---
Accident: Passing
What would you do if you saw another motorist being impatient?
Please comment through the form below.
---
Accident: River
---
Accident: Routing
All routing accidents can be prevented if truckers would simply follow established truck routes as are marked in a truckers atlas.
---
Accident: Sun
Can polarized sunglasses help in situations when the sun is on the horizon?
---
Near accident
---
Animal strikes
We cover avoiding deer collisions (and other animal collisions) on our website — but other than stop, what can you do when a whole herd is on the road at night?
---
Fatalities
---
Low clearance
Do not follow non-motor carrier GPS instructions when you're driving a commercial motor vehicle.
5. Regarding capacity, bottlenecks, ports, containers, supply chain, parking, and BOPIS:
Capacity
---
Bottlenecks
---
Ports
---
Containers
---
Supply chain
---
Parking
---
BOPIS
This acronym stands for "Buy-online, pick-up-in-store."
6. Regarding shortage, age, recruiting, retention, detention, truckers, and trucking:
Shortage
---
Age
Nothing against young people, but there's a reason why auto insurance is higher for those under a certain age, particularly males under about 25 or 26.
I think lowering the age for getting a CDL is a mistake.
---
Recruiting
---
Retention
---
Detention
For reference purposes, you may want to read these articles on our website:
Meanwhile, here are recent articles on this topic in the trucking industry.
---
Truckers
---
Trucking
7. Regarding autonomous vehicles, electric vehicles, fuel, fuel efficiency, trailers, and emissions:
Autonomous vehicles
I most definitely oppose autonomous, driverless, or self-driving commercial motor vehicles on the roads with the motoring public, but share these articles as a courtesy to keep you updated on this topic.
---
Electric vehicles
---
Fuel
---
Fuel efficiency
---
Trailers
---
Emission
8. Regarding claim, inspection, chains, mountains, and technology:
Claim
---
Inspection
---
Chains
---
Mountains
---
Technology
9. Regarding economy, deadheading, inflation, investment, insurance, pay, costs, leasing, and VMT:
Economy
---
Deadheading
---
Inflation
---
Investment
---
Insurance
---
Pay
Costs
---
Leasing
---
VMT
It is wrong, in my opinion, to extract money from taxpayers to help fund a system to tax them even more!
10. Regarding roads, tolls, traffic, and weather:
Roads
---
Tolls
---
Traffic
---
Weather
11. Regarding employment, environment, and power:
Employment
---
Environment
---
Power
Remember what happened around February 2020.
12. Regarding awards and freebies:
Awards
Congratulations to those who have been recognized for their achievements in trucking — or are in the running for a special designation.
---
Freebies
I am grateful to those who care for their fellow human beings, especially when they are in bad straits.
Please also feel free to check out any freebies that may apply to you.

My husband Mike and I wish you — and all professional truck drivers — safe travels and lots of money saving opportunities on the road.
---
---
Return from TDMST Weekly Round-Up: 2021.11.20 to our TDMST Weekly Round-Up Trucking Commentary or our Truck Drivers Money Saving Tips home page.
---